Apple unveiled the
iPhone 5s
, the successor to its bestselling flagship phone, the
iPhone 5
, on Tuesday. The iPhone 5s is a much improved version of the iPhone 5 with new internals, although it sports almost the same design. It offers some revolutionary features including a new A7 chip with 64-bit architecture, a fingerprint scanner, new colour options and better battery life, among others.
The iPhone 5s also boasts of a much improved iSight camera. Apple has not increased the resolution of the sensor but has put a new 8-megapixel camera on the iPhone 5s that has a 15 percent larger sensor, bigger pixels measuring 1.5 microns and an aperture of f/2.2 allowing more light to come in, in addition to a backside illumination sensor (BSI). This, according to Apple, will allow users to take good quality pictures even in low light, apart from capturing sharper detail.
Also see:
Take a look at our complete specification by specification comparison in tabular format here:
Apple iPhone 5 vs. iPhone 5s comparison
.
The Apple iPhone 5s' iSight camera comes with a continuous burst mode which is capable of shooting 10 pictures per second, and offers a real-time analysis suggesting individual shots or a sequence of photos that users might like best.
The iSight camera on the iPhone 5s comes with an accompanying True Tone Flash that feature a white LED and an amber LED which work with software algorithms to adjust flash intensity and colour temperature, with over 1000 unique combinations to light the subject.
The latest iSight camera also comes with auto-image stabilisation to help reduce noise and motion from shaky hands or moving subjects. The camera also offers a Slo-Mo mode to shoot slow motion video at 120 frames per second at 720p. It also comes with live video zoom for zooming in up to 3x while shooting a video, in addition to live photo filters that can be previewed before shooting a picture.
In addition to these, the iPhone 5s camera also offers a new Square mode for taking photos for sharing on social networks, and a Panorama mode for taking panorama photos. It's worth pointing out that these features are included in iOS 7 and would also be extended to the iPhone 5.
The iPhone 5s sports a new 1.2-megapixel front-facing FaceTime HD Camera that also comes with a BSI sensor for capturing low-light self-clicks and support for 720p HD video recording for high-quality video chats.
Overall, the iPhone 5s offers a better camera bringing the ability to take images in low-light conditions, and capture slow motion videos. It also offers a smarter dual-LED flash.
(
Also see:
10 new features in Apple's iPhone 5s
)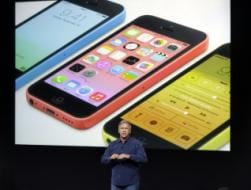 iPhone 5c and iPhone 5s launch in pictures