Apple and its partners unveiled the iPhone 5s and iPhone 5c in India on Friday to an enthusiastic response, with customers lining up in huge numbers at almost all stores in major cities across the country.
While the official launch was slated for 5pm local time, by early afternoon, customers were seen lining up at stores in Bangalore and other locations. By the evening, the queues had grown longer, with hundreds waiting to get their hands on Apple's latest phones at a mall in Delhi.
When the counters did open, as expected, the iPhone 5s Gold was in most demand, with unofficial reports claiming that most locations sold all their quota of Gold iPhone 5s within the hour at most stores across the country.
Harsh Sharma, one of the lucky few who managed to get their hands on the Gold iPhone 5s at the Delhi store, couldn't hide his delight at having completed his purchase. Sharma, a consultant by profession, said the phone was a Dhanteras gift for his wife. He said he'd been waiting in the line since 11am, and finally received the phone around 6pm.
While Apple did not share any official trends or sales numbers, it seemed the iPhone 5s was in a lot more demand than the iPhone 5c, in line with what was seen in other markets. However, the colourful iPhone had its takers too; one of them MBA-aspirant Amit, who said he picked a Green iPhone 5c because he loved the colour.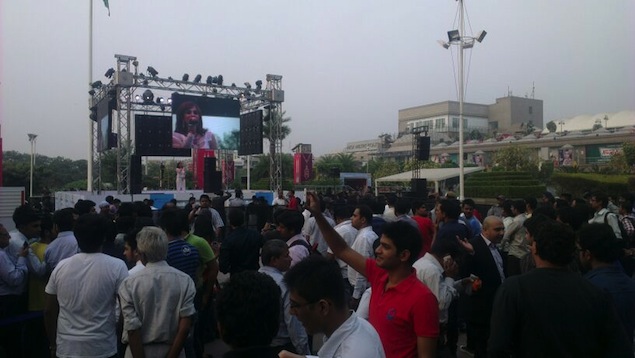 iPhone 5s comes with the Apple-designed A7 64-bit chip, all-new 8 megapixel iSight camera with True Tone flash and Touch ID fingerprint sensor. iPhone 5c features an all-new design, comes in multiple colours and packs internals almost identical to the iPhone 5.
iPhone 5s will be available for Rs. 53,500 for the 16GB model, Rs. 62,500 for the 32GB model and Rs. 71,500 for the 64GB model. iPhone 5c will be available for Rs. 41,900 for the 16GB model and Rs. 53,500 for the 32GB model. All prices are inclusive of all taxes.
Mobile operator Reliance Communications has announced special plans where users can own the iPhone 5s or iPhone 5c for zero upfront cost by signing a two-year contract.