Just a few hours ahead of the official launch of Apple's
iPhone 5s
and
iPhone 5c
in the country, Indian telecom operator Reliance Communications has announced a new offer through which it will offer the two phones under a 24 month contract, and won't require consumers to make any downpayment for the base 16GB models.
Reliance Communications will offer the 16GB iPhone 5s at a monthly fee of Rs. 2,999 and 16GB iPhone 5c at a fee of Rs. 2,599 at zero upfront cost. The monthly fee is inclusive of taxes. In lieu of the fee, consumers will get unlimited local and STD calls, SMS (up to 3,000 a month due to TRAI regulations), national roaming and 3G data. There's no fair use policy and iPhone 5c and iPhone 5s customers will not receive any usage bill for 24 months, except for usage related to international calls and international roaming charges.
The 32GB and 64GB variants of the iPhone 5s and the 32GB variant of the iPhone 5c would also be offered under the same scheme though consumers will have to shell out upfront charges. The 32GB iPhone 5s will come with upfront charges of Rs. 11,600 while the 32GB and 64GB variants of the iPhone 5s will be available following a downpayment of Rs. 10,992 and Rs. 19,992, respectively.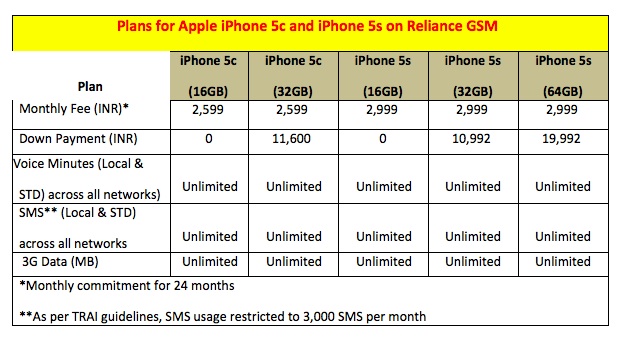 Commenting on the offer, Gurdeep Singh, President & CEO (Wireless), Reliance Communications Limited, said: "We are delighted to be amongst the first to launch the Apple iPhone 5c and iPhone 5s in India and are focused on growing this user segment with our novel iPhone offers, which break all ownership rules and put the customer first. The Apple iPhone has been a dream for users in India and overseas, and it is our endeavour to grow this market and make every Indian's dream come true with RCom's compelling and affordable iPhone ownership plan."
RCom has partnered with select credit card providers to extend the offer with a single swipe of a credit card enabling users to opt in for the contract for 2 years. The Company has also launched special facilities for corporate users of Apple products who would like to migrate to the Reliance network through MNP, with their requests being fast-processed. It's also setting up a special dedicated helpline for Apple customers for assistance and inquiries.
It's worth pointing out that the 16GB iPhone 5s costs Rs. 53,500, while the 16GB iPhone 5c is priced at Rs. 41,900. If you buy the iPhone 5s under the offer, you'll end up paying Rs.71,976 at the end of 24 months, Rs.18,476 over and above the cost of the phone but the monthly rental effectively turns out to be Rs.769.83, so the deal seems quite fair.