While Apple is expected to announce the iPhone 5S and the iPhone 5C in less than a week's time, rumours and leaks are still pouring in.
We've seen a number of images featuring the purported components of the iPhone 5S and the iPhone 5C, however, a new leak that claims to feature the home button flex cable part of the iPhone 5S in a way confirms that the home button would do more than just bringing users back to the phone's home screen.
French website Nowhereelse.fr has published images of the home button assembly which appears to be much more complex compared to the iPhone 5's home button components and previously leaked purported home button assembly of the iPhone 5S, suggesting that it could also integrate a fingerprint scanner as hinted by previous rumours.
As the website points out, the image of the home button assembly features an additional square-shaped component and two resistors which may be related to the fingerprint sensor present on the home button. The three components are not present on the iPhone 5's home button assembly. The component carries a date code that reveals that it was probably manufactured in the 29th week of 2013, or mid-July.
This also implies that the previous leaks that featured a much simpler home button assembly could be from an initial prototype and that the final version might feature an integrated sensor component.
Rumours related to the next iPhone sporting a fingerprint sensor started when KGI Securities analyst Ming-Chi Kuo claimed in his research report that Apple was expected to integrate a fingerprint reader under the home button for security. Reports following it, suggested that Apple had selected Taiwanese chip maker Chipbond for sourcing a number of components for the iPhone 5S, including the touch display driver and hardware to support fingerprint sensor and near field communications (NFC) functionality.
Apple had acquired mobile security firm AuthenTec, last year, in a deal valued at about $356 million. AuthenTec makes security software and chips including chips for fingerprint recognition and near-field communication (NFC) for mobile phones. After the deal, analysts and tech pundits have been expecting Apple to use the technology in its next-generation iPhone.
Code hinting at the presence of a fingerprint scanner in the Home button had appeared in iOS 7 beta 4. However, the code was apparently removed in the next version of the OS.
Apple sent invites to an event that's scheduled for September 10
, where it's expected to unveil the iPhone 5S and iPhone 5C. So it's a just a matter of a few days till we know if the new iPhone will indeed offer this new feature.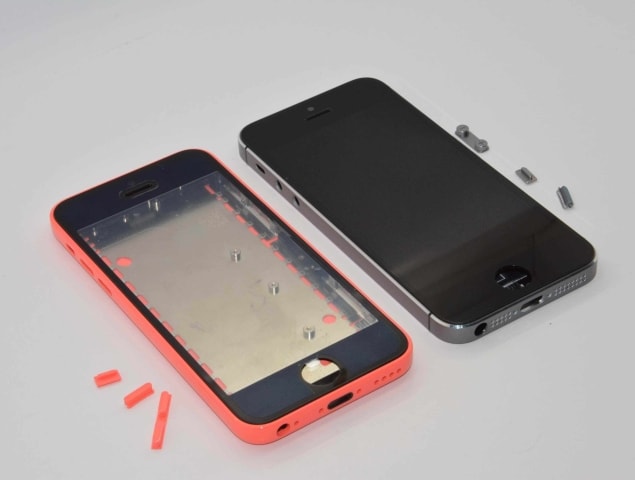 Are we looking at Apple's new iPhones?