Looks like Apple has not been able to prevent its upcoming devices from leaking innumerable times, ahead of their rumoured launch. The next-generation iPhone, the iPhone 5S, and the low-cost iPhone, iPhone 5C, appear online in different leaks almost every day.
In line with previous rumours that pointed to the iPhone 5S being offered in two new colours, Gold and Graphite, some new videos showcasing the back shell of the next generation iPhone in these two colours have appeared online.
First spotted by
9to5Mac
, a new video by TLDToday, compares the internal structure of the Gold iPhone 5S' casing with that of the iPhone 5, noting that it's much different from its predecessor. The video reveals that the space reserved for the battery has increased, and position of the logic board screws has been changed, with the logic board and chip set being expected to take less space. So, we can expect the iPhone 5S to have a better battery life in addition to a faster processor and graphics. The video also reconfirms the pill shaped dual-LED flash as
seen on previously leaked cases of the iPhone 5S
.
Another video from DetroitBORG compare the iPhone 5S shell to the iPhone 5C shell noting that the 5C shell sports larger dimensions compared to the 5S. The iPhone branding is again in a thinner font, similar to past leaks.
The website also features a third video by iPhone jailbreaker Tanner Marsh of iCrackUriDevice fame, which features the back casing of a Graphite or Grey coloured iPhone 5S. The shell looks very similar to the Slate and Black iPhone 5 except that the colour is a bit lighter. However, this could also be an early prototype of the Slate and Black iPhone
.
The iPhone 5S is expected to come with a brand new Apple chip, the A7, alongside 1GB of LPDDR3 RAM, retaining the form factor of the iPhone 5. A 128GB storage variant of the phone has also been rumoured. The iPhone 5S is likely to come with a larger f2.0 aperture compared to the iPhone 5, that comes with f2.4 aperture. It's also likely to sport a fingerprint reader.
Apple is expected to unveil the iPhone 5S along with the iPhone 5C, the cheaper version of the iPhone, on September 10 at an event in San Francisco.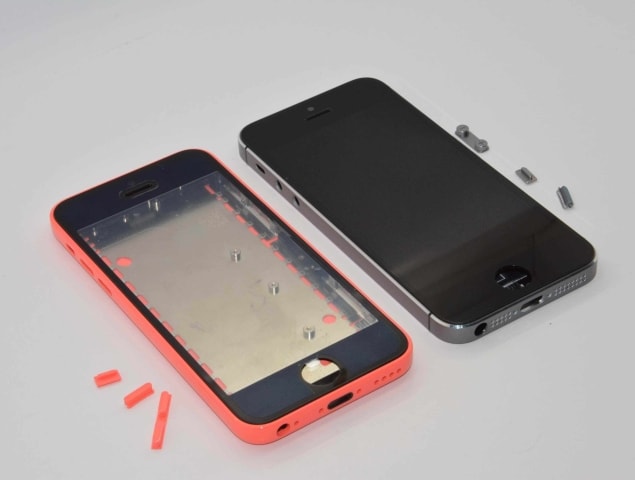 Are we looking at Apple's new iPhones?
For the latest tech news and reviews, follow Gadgets 360 on Twitter, Facebook, and Google News. For the latest videos on gadgets and tech, subscribe to our YouTube channel.
Related Stories