Apple's new
iPhone 5c
may face fierce competition from
iPhone 4
series in the country, since these models are likely to fall in the same price bracket, according to analysts.
The California-based firm will roll out the iPhone 5c its cheapest handset till date in the US, China and Japan among other countries starting September 20. Apple CEO Tim Cook called iPhone 5c "more fun and colourful" than any other iPhone.
(Also see: Apple unveils iPhone 5c and iPhone 5s)
The device is expected to hit India by the end of the year, though no official confirmation was available. Analysts say the phone will be a premium product in India.
Gartner Principal Research Analyst Anshul Gupta said: "iPhone 5c will not be the cheapest Apple handset in India. It will face competition from iPhone 4 and iPhone 4S." He, however, added that Apple, with the new launch, is trying to protect its margins.
"Price point of iPhone 5c could be in the range of Rs. 30,000-35,000, which will not be seen as a low-end product. Apple will have to calibrate the Indian market carefully for its launch," IDC India Country Head Jaideep Mehta told PTI.
(Also see: In world's biggest market, "cheap" iPhone looks too pricey)
KPMG (India) Partner Telecom Practice Jaideep Ghosh said: "iPhone 5c is not a mass phone, it's a high-end smart phone. I think it will play in the high-end smartphone market."
The unlocked 16GB version of the iPhone 5c will be available for USD 549 (about Rs. 34,700) in the US, while the model in China would be priced at USD 729 (about Rs. 46,000). Apple's iPhone 4 (8GB) is priced in the range of Rs. 23,000-24,500 in India, while iPhone 4S (16GB) is in the range of Rs. 38,000-39,000.
(Also see: iPhone 5c price disappointment: 'Low-cost iPhone' fails to check-in)
The iPhone 5c will feature an all-new design and will be available in 5 colours blue, green, pink, yellow and white. It features a four-inch Retina display, A6 chip, an 8 MP iSight camera and is powered by latest iOS 7 operating system. iPhone 5c is priced at USD 99 for the 16GB model and USD 199 for the 32GB model (with a 2-year contract) in the US.
Apple's strongest competitor Samsung had launched the latest version of its flagship model, Galaxy S4, earlier this year. BlackBerry launched the BlackBerry Z10 and BlackBerry Q5 as part of its attempts to make a comeback in the smartphone race. Nokia is also trying to gain traction with its Lumia range of smartphones and Asha range of devices, which are targeted at emerging countries like India.
Apple also launched its flagship iPhone 5s, which it referred to as the "world's first and only smartphone" with a 64-bit chip. The handset introduces a fingerprint sensor 'Touch ID' for the iPhone. Built into the home button, Touch
ID takes a high-resolution image of the user's fingerprint to unlock the device.
Apple claims claims 10 hours of talk time on 3G networks for the iPhone 5s, and up to 10 hours of web browsing on Wi-Fi and LTE networks. It will be available in three colours Silver, Slate, and Gold and will cost USD 199 for 16GB, USD 299 for 32GB and USD 399 for 64GB with a standard two-year contract in the US.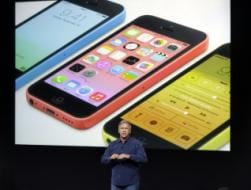 iPhone 5c and iPhone 5s launch in pictures