Shares of Apple Inc's component suppliers came under pressure on Wednesday as investors locked in recent gains on concerns that its lower-cost iPhone was still too expensive for its target audience in China and other emerging markets.
Apple's own shares were down more than 5 percent a day after it unveiled its flagship iPhone 5s with a fingerprint scanner to help it stand out among the smartest of phones. It also introduced the colourful 5c plastic model for emerging markets.
(Also see: Apple unveils iPhone 5c and iPhone 5s)
The cheaper, plastic-backed iPhone 5c will sell for 4,488 yuan in China, almost $200 more than the United States retail price of $549 and only 800 yuan less than its top-of-the-line sibling, the 5s.
"People were all expecting the 5c would be a low-cost model, but it doesn't look like it will be too competitive now," said Jackson Wong, Tanrich Securities vice president for equity sales in Hong Kong. "Everybody is now looking to the China Mobile announcement, which can happen anytime now."
(Also see: In world's biggest market, "cheap" iPhone looks too pricey)
Markets have been speculating that Apple is on the verge of signing a distribution pact with China Mobile Ltd, the country's biggest wireless carrier with more than 740 million subscribers. China Mobile shares fell just under 1 percent in Hong Kong and about 3 percent in New York.
Shares of component suppliers Broadcom Corp and Qualcomm Inc fell 2 and 3 percent respectively in New York while those of Cirrus Logic Inc, which gets about 82 percent of its revenue from Apple, fell as much as 5 percent.
Brokerage Susquehanna Financial Group said that since the iPhone 5s' connectivity features were not upgraded, Broadcom could experience pricing pressure. Broadcom is widely believed to be providing connectivity solutions for the new iPhone.
Among Japanese component makers, Taiyo Yuden Co Ltd, Murata Manufacturing Co Ltd and Ibiden Co Ltd dropped between 1.6 and 3.3 percent.
Hong Kong-listed AAC Technologies Holdings Inc sagged 4 percent. Goertek Inc, which supplies speakers to Apple, plunged the maximum 10 percent limit in Shenzhen, while Taiwan's Hon Hai Precision Industry Co Ltd eased a more modest 1.3 percent.
Traders also said the cheaper model, which will go on sale on Friday and come in five colours - blue, green, pink, yellow and white - could crimp margins at suppliers.
(Also see: iPhone 5c price disappointment: 'Low-cost iPhone' fails to check-in)
"In terms of components, it's all a volume game with low margins. It's not a huge positive for component makers," a senior dealer at a foreign bank in Tokyo said.
Apple has been losing ground to Samsung Electronics Co Ltd and Huawei Technologies Co Ltd in emerging markets like China and India.
Other Japanese part suppliers that were hit on Tuesday included Mitsumi Electric Co Ltd, Japan Aviation Electronics Industry Ltd, Minebea Co Ltd, Alps Electric Co Ltd and Nidec Corp, off between 1 and 4.3 percent.
Buying opportunity
Another Tokyo-based trader disagreed that margins were under threat, saying Apple has long been squeezing its part suppliers so if the tech giant can increase sales, it would benefit component makers as well.
"It's not negative for the component makers because it's about volume. If anything, it is positive for component makers because you are now arguably going to be selling even more iPhones," he said, adding that the selloff in the Japanese component makers offered buying opportunities.
"The potential you've got here is not that you are going to be selling fewer iPhone 5s. What you are doing here is attacking a brand new market," the trader said. "Now they have come up with a mid-range phone because there is a huge market for entry level smartphones."
According to Thomson Reuters StarMine, suppliers Taiyo Yuden, Murata and Ibiden were 14 to 37 percent below their intrinsic value, which evaluates a stock based on projected growth over the next decade, using a combination of analyst forecasts and industry growth expectations.
© Thomson Reuters 2013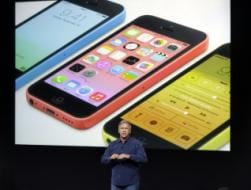 iPhone 5c and iPhone 5s launch in pictures