Apple earlier this week released the first developer beta of iOS 9.3 with new features and enhancements. The Cupertino-based tech firm has now released a public version for non-developers. The firm also released its iOS 9.3 Beta 1.1 for the developers along with the OS X 10.11.4 for public beta testers. The OS X 10.11.4 beta was made available to developers earlier this week.
Interested users can sign up for both the iOS 9.3 and OS X 10.11.4 public betas by joining the Apple Beta Software Program. The iOS 9.3 Preview for public testers has introduced multi-user mode on iPad for schools, and a night-mode for all that aims to enhance the viewing experience on iPhone and iPad during the night hours. The Cupertino-based company is calling the night-mode Night Shift. The feature, if enabled, changes the white balance of the screen in accordance with the time and your geographic location to suit your eyes.
The second feature is the inclusion of multi-user mode on iPad - but, it's limited to the iOS 9.3 Education Preview. The Shared iPad feature will keep a tab on users who regularly sign in to the iPad, and have their content cached so that these students don't have to download data each time they sign in.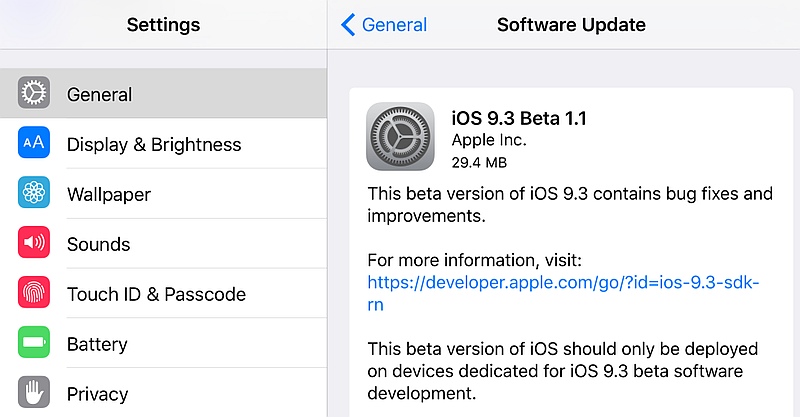 Other features introduced in the iOS 9.3 Preview include an updated Notes app, which gets Touch ID password protection and better sorting options (date created, date modified, alphabetically). The Apple News app was also updated, with better customisation in the 'For You' section, as well as the addition of trending topics and Editors' Picks. Users will also be able play videos directly in their news feed, the app gets support for landscape view on iPhone, while news updates are said to come faster. The Health app has also been updated in the iOS 9.3 Preview. The recently introduced Nearby feature has come to the Maps section of CarPlay, letting users find gas stations, parking, restaurants, coffee, and more, alongside ratings and price.
The iOS 9.3 Beta 1.1 for developers feature some "bug fixes and improvements". The version fixes some issues faced by customers while updating to 13E5181d that caused the device display to freeze while showing the Apple logo, as per a developer (via 9to5Mac).
As for the OS X 10.11.4 beta, Apple has introduced Live Photo viewing and sharing them in Messages. Until now, the Live images could only be seen inside the Photos app on the Mac, restricting its sharing to iCloud Photo Sharing. The Live Photos feature debuted with the iOS 9.0 in iPhone 6s and iPhone 6s Plus.
Also included is secure password protection for individual notes in the Apple's Notes app, like seen in iOS 9.3. Some developer-focussed improvements for Safari web browser have also been implemented in the public beta version.