Apple's iOS 8 is now powering 68 percent of iOS devices including iPhone, iPad and iPod touch users, according to the latest figures posted by the Cupertino-based firm.
The company updated its App Store Distribution page to show the OS distribution data of App Store visitors on January 5, split between iOS 8, iOS 7 and earlier iOS versions.
According to the latest App Store Distribution page 68 percent or the majority devices were running iOS 8, followed by 29 percent running iOS 7, and 4 percent running earlier versions. Notably, this translates to 101 percent, so the figures have been rounded off incorrectly.
The numbers reported by Apple show a rise in iOS 8 adoption if compared to the numbers shared by Apple in November. Earlier, 60 percent of devices were running iOS 8, followed by iOS 7 powering 35 percent of the devices, and the rest 5 percent of devices running on earlier versions.
Interestingly, Apple's iOS 8 within five months of its public release is powering the majority of active iOS devices. In contrast, Google's Android 4.4 KitKat even after 14 months powers just 39.1 percent of the active Android devices worldwide, according to Google's own figures shared in January.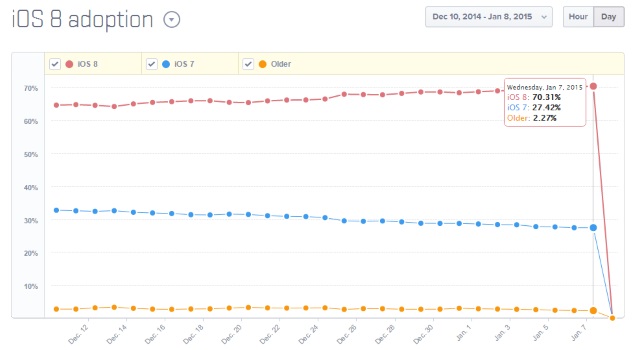 Two analytics firms, Mixpanel and Fiksu also reveal similar figures of iOS 8 adoption. According to Mixpanel (see above), iOS 8 powers 70.31 percent of devices, iOS 7 still runs on 27.42 percent devices and older versions powering 2.27 percent iOS devices, as of January 7.
According to analytics firm Fiksu, iOS 8 powers is at 65 percent mark, iOS 7 is at 29.4 percent, while older versions are present on 5.6 percent of devices.
For the latest tech news and reviews, follow Gadgets 360 on Twitter, Facebook, and Google News. For the latest videos on gadgets and tech, subscribe to our YouTube channel.
Related Stories