Apple's iOS 8, the mobile operating system powering iPhone, iPad, and iPod touch devices, is now running on 60 percent of active iOS devices, according to the latest figures posted by the Cupertino-based firm.
The company recently updated its App Store Distribution page to show the OS distribution data of App Store visitors on November 24, split between iOS 8, iOS 7 and earlier iOS versions.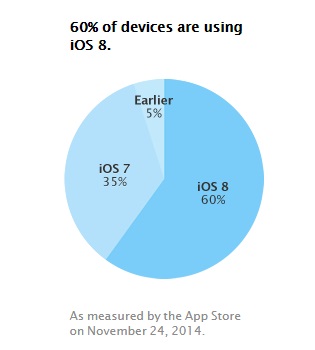 The official App Store Distribution page reveals that the majority (60 percent) of active iOS devices are running iOS 8, followed by 35 percent still running iOS 7, and 5 percent still running earlier versions.
Notably, the new figures if compared to Apple's last figures published earlier this month show a minor increase in iOS 8 adoption numbers. On November 10, Apple said 56 percent of active iOS devices were running iOS 8, while 40 percent were on iOS 7, and 5 percent on previous versions.
The numbers reported by Apple overall definitely show a rise in iOS 8 adoption if compared to the numbers revealed by Apple in September. As of September 21, 49 percent or the majority of active iOS devices were running iOS 7, closely followed by iOS 8 on 46 percent of the devices, and the rest on earlier versions (5 percent).
Interestingly, Apple's iOS 8 within three months of its public release is powering the majority of active iOS devices. It took Google's Android 4.4 KitKat version 11 months to reach 24.5 percent of the worldwide users, according to Google's own figures shared in September.
Recently, a marketing firm in its analysis report found that the top 200 free iOS apps in the US achieved a record number of downloads in October - 7.8 million to be precise.
The report attributed a large number of downloads in October to the launch of the iPhone 6 and iPhone 6 Plus. Notably, a large number of iOS apps were reinstalled by those users who shifted from older iPhone models to the new ones.
Sequentially, the iOS app downloads in the US soared by 42 percent as compared to September, and 39 percent from October last year.