While
iPhone 6
and
iPhone 6 Plus
continues to mark new sales record for
Apple
, iOS 8 adoption is reportedly lagging significantly behind that of iOS 7. Apple had
announced iOS 8 adoption
4 days after the final release on September 17, saying that almost half the iOS device (iPhone, iPad and iPod touch) users visiting the App Store on September 21 were running iOS 8.
According to analytics firm Fiksu (via 9to5mac), iOS 8 is yet to hit the 40 percent mark after 12 days, as opposed to iOS 6 and iOS 7 which achieved the 50 percent mark within 12 days after the start of their roll-out. Another analytics firm, Mixdata, separately finds that iOS 8 adoption still lags far behind iOS 7 from last year, and is only now close to 50 percent mark.
The Cupertino-based tech firm updated its App Store Distribution page on September 23 to show the OS distribution data of App Store visitors on September 21, split between iOS 8, iOS 7 and earlier iOS versions.
According to the App Store Distribution page the majority of users used iOS 7 (49 percent), followed by iOS 8 (46 percent) and the remaining used other earlier versions (5 percent).
Meanwhile, the new iPhone adoption data by Fiksu suggests the iPhone 6 accounts for 4 percent of all active iPhone devices using Fiksu client apps in the 17 days since its release, compared to a combined share of 3 percent for the iPhone 5s and iPhone 5c in the same period last year. iPhone 6 Plus adoption is in line with the iPhone 5c last year, at 1 percent after 17 days.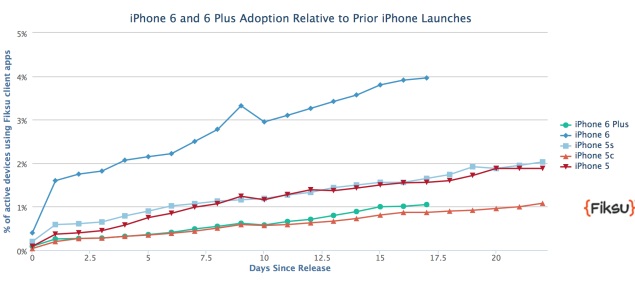 The iPhone 6 Plus adoption, according to Fisku's data is slightly more than the iPhone 5c as yet. Collectively, both iPhone 6 and iPhone 6 Plus have crossed 5 percent of total iPhone usage in less than 18 days.
For the latest tech news and reviews, follow Gadgets 360 on Twitter, Facebook, and Google News. For the latest videos on gadgets and tech, subscribe to our YouTube channel.
Related Stories