Looks like rumours of a new iPhone with a fingerprint sensor might finally turn out to be true, going by close analysis of the latest beta of iOS 7.
According to a
report
by 9to5mac.com, iOS 7 beta 4, which was seeded to registered developers on Monday, includes a folder named "BiometricKitUI." The code present in the Accessibility section of the OS contains text strings related to a VoiceOver tutorial with instructions on using the fingerprint sensor on the iPhone. The report is in turn based on observations by
Hamza Sood
. The text strings mention:
"Photo of a person holding an iPhone with their left hand while touching the Home button with their thumb
Photo of a person holding an iPhone with their right hand while touching the Home button with their thumb
A fingerprint that changes colour during the setup process.
Recognition is %@ complete"

The string indicates that the fingerprint sensor would most likely be present on the iPhone's Home button and it's likely that it would be deployed in the unlocking mechanism of the phone.
Previous reports had indicated that Apple had selected Taiwanese chip maker Chipbond for sourcing a number of components for the iPhone 5S, including the touch display driver and
hardware to support fingerprint sensor
and near field communications (NFC) functionality. The report suggested that Apple would integrate the fingerprint sensor with NFC driven mobile payments to strengthen security, which remains a major concern for the company.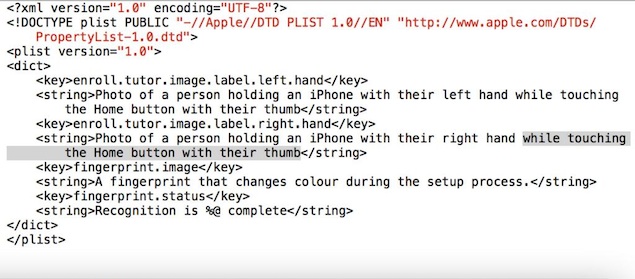 Apple had acquired mobile security firm AuthenTec, last year, in a deal valued at about $356 million. AuthenTec makes security software and chips including chips for fingerprint recognition and near-field communication (NFC) for mobile phones that it licenses to companies like Samsung. After the deal, analysts and tech pundits have been expecting Apple to use the technology in its next generation iPhone. Another report had pointed out to the company's notice to its customers saying that it won't offer its technology to them starting 2013.
While the Apple iPhone 5 was also rumoured to support NFC before its launch, the company did not include it. It does support mobile payments via Passbook, Apple's software-based wallet.
Earlier, KGI Securities analyst Ming-Chi Kuo had also claimed in his new research report that the Apple iPhone 5S would have a fingerprint reader under the Home button for security.
Meanwhile, the iOS 7 beta 4 brings several performance, usability and cosmetic changes. In terms of UI changes, the beta fixes the position of the 'slide to unlock' arrow in the lock screen, brings new buttons to the dialler and call answer screens, a Cancel option in universal search (Spotlight) interface, ability to swipe between different sections in Notification Center, visual tweaks in Safari and Mail apps, tweaked filters UI and HDR button in the Camera app, new Airplay icons, and improved transparency and animations in folders.
Usability wise, the new beta supports unlimited apps in the multitasking view, faster Compass calibration, new sound alert for AirDrop, Siri Q&A feature, new resolution switch in the iPad while running iPhone apps, ability to shuffle all songs in the Music app, and search functionality in Reminders app, amongst other changes.