Intel Corp President Renee James unveiled a new 64-bit Atom processor for smartphones and also announced a number of new products and initiatives aimed at securing the company's growth in 2014 and beyond. Citing the emerging Internet of Things ecosystem and advanced LTE network rollouts around the world, James disclosed Intel's plans to position itself at the forefront of mobile hardware and software development.
James noted during her presentation at the 2014 Mobile World Congress in Barcelona that Intel is the only company shipping 64-bit processors for multiple software platforms, and that Intel continues its contributions to the Android ecosystem in preparation for a 64-bit release of Android.
The new Intel Atom Z3480, codenamed Merrifield, is based on the same 22nm Silvermont architecture as the recently unveiled Bay Trail-T processor series for tablets. Merrifield is aimed at devices running Android, and claims to offer best-in-class battery life as well as better performance than a Qualcomm Snapdragon 800 in multiple usage scenarios. It will run at up to 2.13GHz and feature integrated graphics handed by a PowerVR G6400 GPU which is twice as fast as the graphics on the previous-generation Atom Z2580.
Merrifield features hardware-accelerated VP8 HD video encoding and decoding, a dedicated video signal processor, dedicated camera image signal processor, wireless screen mirroring, and additional instructions for secure storage, virtualisation, encryption, and DRM management. It also features a new Intel Integrated Sensor Platform, which allows applications to remain aware of sensor information even when the main processor cores have entered a power-saving state.
James also disclosed information about Moorefield, the successor to Merrifield which will ship towards the end of 2014. While Merrifield has two cores, Moorefield will have four cores and run at up to 2.3GHz.
Intel's 2014 LTE platform, named XMM 7260, will scale to category-6 speeds and support LTE-Advanced standards including carrier aggregation for performance up to 300Mbps downlink with simultaneous 50Mbps uplink. The platform will be used in upcoming smartphones, tablets, Ultrabooks, hybrid tablets, and other devices from a variety of manufacturers including Acer, Asus, Dell, Lenovo and Samsung.
James revealed a full-featured mobile security app for Android named McAfee Mobile Security, which is now available. The app includes antivirus, app protection, web filtering, anti-theft features, data backup and call/SMS filters.
Referring to the growing Internet of Things ecosystem, James noted that Intel is riding a wave of network infrastructure transformation, and is creating standardised platforms for hardware and software development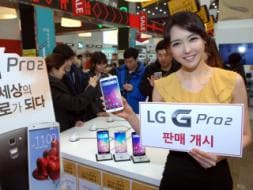 MWC 2014 in pictures