Alcatel OneTouch has announced a bunch of new devices at the ongoing IFA 2015 trade show. The devices launched are the Alcatel OneTouch Pop Star, OneTouch Pop Up, and OneTouch Go Play smartphones, apart from the OneTouch Go Watch smartwatch, and 17.3-inch OneTouch Xess tablet.
The Alcatel OneTouch Pop Star is a dual-SIM smartphone that would arrive with a number of swappable covers. The covers range from plastic backs to Leather collection, Fashion Collection or Nature-ECO collection and also includes a Denim back cover. On paper, the smartphone is not a premium device. Also, it is available in 3G and 4G LTE versions, both running Android 5.0 Lollipop. Both variants feature a 5-inch HD (720x1280 pixels resolution) IPS display, 1GB of RAM, 8-megapxiel rear camera, 5-megapixel front-facing camera, and a 2000mAh battery. The difference however, lies in the 3G and 4G connectivity options, inbuilt storage and the processor.
The OneTouch Pop Star 3G variant includes 8GB of inbuilt storage, and is powered by a quad-core 1.3GHz MediaTek MT6580 chipset. The OneTouch Pop Star 4G LTE features 16GB of inbuilt storage and a 64-bit quad-core 1GHz MediaTek MT6735P processor.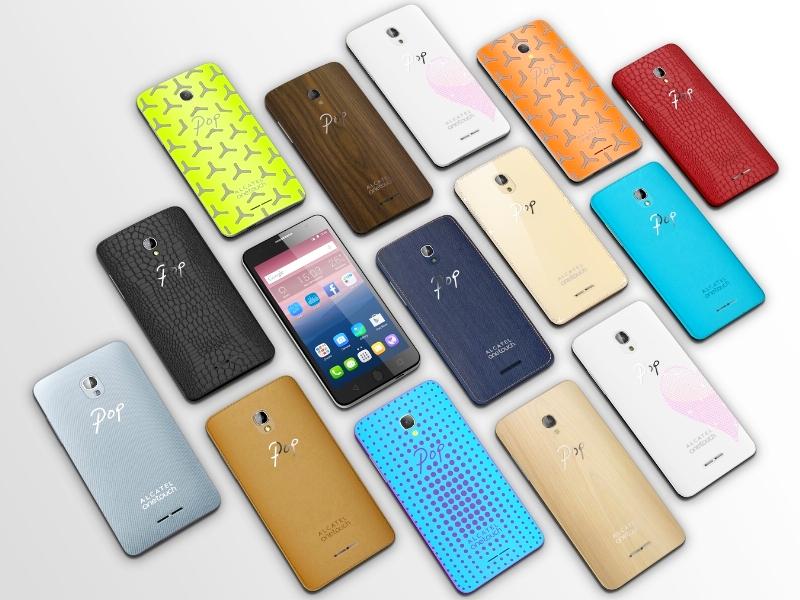 The 4G-enabled Alcatel OneTouch Pop Up (seen below) however, comes with better innards but slightly lower number of swappable back covers. The dual-SIM supporting handset features the same display setup as the OneTouch Star but is powered by a powerful octa-core 1.4GHz Qualcomm Snapdragon 610 SoC, clubbed with 2GB of RAM. The handset houses 16GB of inbuilt storage, which can further be expanded via a microSD card (up to 32GB) and packs 13-megapixel rear camera with f/2.0 aperture.
The OneTouch Pop Up sports a metal frame with glass hardware key and will be arriving in Black, Riva Blue, Amber Orange, White, and Strawberry Red colour variants. The company has not finalised the price or the availability details of the two smartphones.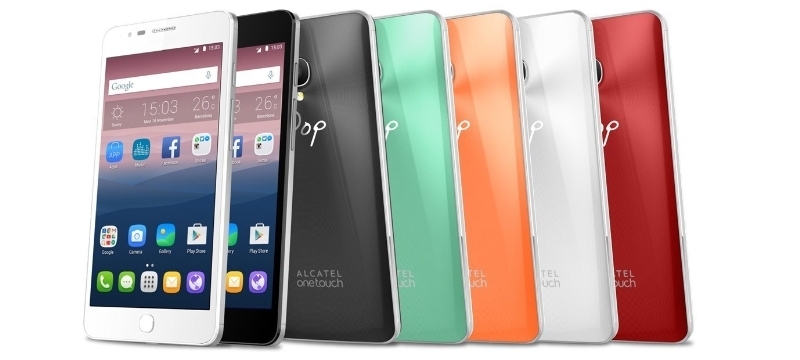 Also announced was the Alcatel OneTouch Go Play (seen atop) smartphone alongside the Go Watch smartwatch. The Go Play smartphone's highlight is that it is supposedly shockproof and IP67 certified, which makes it dust and water resistant. The Android 5.0 Lollipop-based smartphone equips a 5-inch 720p resolution TFT display and is powered by a quad-core 1.2GHz Qualcomm Snapdragon 410 CPU, clubbed with 1GB of RAM. It includes 8GB of inbuilt storage, of which on 4GB is for users. The device also sports 8-megapixel autofocus rear camera and a 5-megapixel front-facing fixed-focus camera. Other features mentioned are FM radio, 1-finger zoom, mini apps, multi-tap wake up, and idle screen.
The Alcatel OneTouch Go Play smartphone is backed by a 2500mAh battery, which as per the company offers 20 days of standby time, 8.3 hours of talk time and 55 hours music. The smartphone can also be clubbed with waterproof headsets and protective case. It would arrive in dark grey, dark red, dark green, orange blue, pink, lime green, blue and orange colour variants.

The Alcatel OneTouch Go Watch (seen above) comes with same IP certification as Go Play smartphone and instead of Android Wear, runs on company's proprietary operating system. However, the device is compatible with both Android 4.3 Jelly Bean OS, iOS 7, and later OS versions of both.
The smartwatch features a 1.22-inch LCD IPS circular display with 240x240pixels resolution. Powered by a 180MHz cortex-M4 based CPU, the wearable is backed by a 225mAh battery, which can be charged via Micro-USB connectivity and would run for 2-5 days on a single charge, as per the firm.
The Alcatel OneTouch Go Watch is almost 100 percent customisable as users can change both its front-casing and the wristband with other options. The watch carries all the similar functions such as showing notifications about messages, emails, calls, and the weather. However, its Go button triggers an "emotion pulse measurement" that is said to create an "emotional graphic" from the results gathered by the gyroscope, heart rate sensor, and accelerometer. Users can share the result on social networks, or set it as the wallpaper. There is no information on the OneTouch Go Play and OneTouch Go Watch pricing and availability.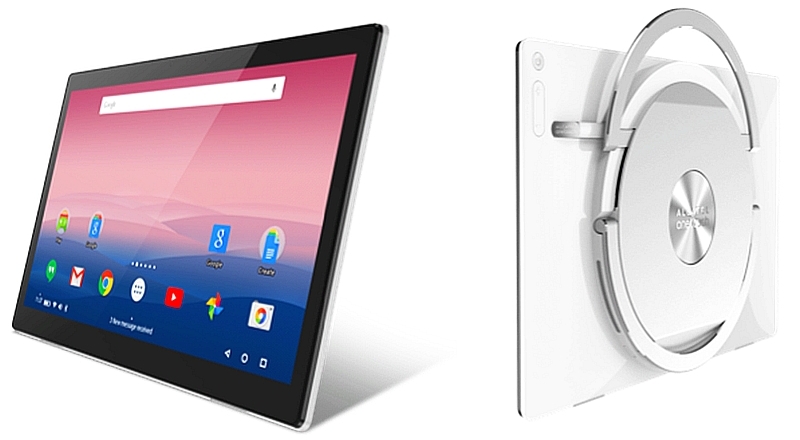 Besides launching three handsets and a smartwatch, Alcatel launched its Xess tablet (seen above). The stainless steel tablet's claim to fame is its huge 17.3-inch 10-point full-HD touchscreen display. The Android 5.1 Lollipop-based tablet is powered by an octa-core 1.5GHz MediaTek MT8783T SoC, clubbed with 2GB LPDDR3 RAM. The tablet includes 32GB of inbuilt storage, which can be further expanded via a microSD card. Measuring 416.5x266.5x9.15mm, the device is backed by a 10000mAh battery.
The Alcatel OneTouch Xess houses an adjustable built-in stand and a handle which can make the tablet stand at 30 degrees, 50 degrees, and 75 degrees based on how the user wants to view it. Wall mount and smart dock accessories for the device offers more viewing angles. Due to its bid display size, the Xess features a built-in stylus as well as hands-free gesture control. 3-watt JBL dual speakers are also housed by the tablet alongside USB ports and apps such as OneTouch Mix and SketchBook app. Some of the other Xess accessories are blue-free film, IP camera, Bluetooth mouse and keypad, Bluetooth speaker, mag cover and mounting case. No pricing or availability details of the tablet are out yet.