China's Huawei Technologies believes it can take advantage of recent changes in how operators in the United States sell phones to get a foothold in the all-important market, an executive with its consumer division said on Sunday.
Huawei, best known as a maker of telecom network gear, became the world's third-biggest smartphonemanufacturer last year, through the sale of mid-priced handsets within its fast-growing domestic market and an increasing appeal to price-conscious consumers in western Europe.
But the group, which lags market leader Samsung and Apple , has yet to gain a foothold in the high-end segment of developed markets such as the United States, where it is viewed with suspicion after lawmakers flagged Chinese telecommunications equipment as potential security risks. It has also suffered from its difficult-to-pronounce brand name, its executives have acknowledged.
After launching five new devices at the Mobile World Congress trade fair in Barcelona, Huawei's Colin Giles said the group was taking early steps in the United States to build better relationships with mobile operators and directly with consumers via online shops.
"We recognise that the U.S. is a very competitive and very tough market for us," Giles, the executive vice president of Huawei's consumer business group, told Reuters.
"Recently there has been quite some change in the U.S. in terms of the whole subsidy landscape, and so that provides a new opportunity for players like us to come with a slightly different distribution strategy than what we used to have."
In the third quarter of last year, Huawei accounted for 3 percent of all phones sold in the United States, respectively, trailing Apple's 36.2 percent and Samsung's 32.5 percent, according to IDC.
Traditionally, mobile operators buy phones in bulk from manufacturers like Apple and then offer them for free or a low upfront cost to customers when they sign a new one- or two-year contract.
T-Mobile USA dropped this model last year in a move to cut costs and woo customers frustrated with restrictions on upgrades in longer-term contracts.
Giles said Huawei was increasing its spending on marketing every year to raise consumer awareness of its brand, though he did not give specific details. In Europe, the company has sponsorship deals with a string of soccer clubs. In New Zealand, Huawei sponsors rugby, and in the United States, it is sponsoring movies.
On Sunday, Huawei launched a mobile Wi-Fi hotspot, a new smartphone aimed at 18- to 30-year-old consumers, and two sleek tablets to compete with Apple's mini iPad.
The company also unveiled its first wearable device, a fitness tracker called the TalkBand, in a bid to take a piece of the burgeoning category. The bracelet, which comes in yellow and blue among other colours and costs 99 euros, can count calories burned and steps taken. It can also be used to make calls.
Samsung launched a new smartwatch on Sunday to succeed its original Galaxy Gear wristwatch, which has failed to gain much of a following with consumers to date.
© Thomson Reuters 2014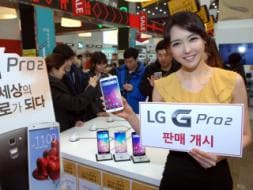 MWC 2014 in pictures