With large screen phones being the current rage, it looks like HTC is also about to ride the bandwagon and launch a big-screen variant of its flagship smartphone, the HTC One.
According to a
report
by Pocket-lint, HTC will be launching a new phone that will have the same specifications as the HTC One, but will sport a bigger screen. It cites sources familiar with the development to report that the screen size of the phone will be above 5.0-inches but below 6.0-inches.
The report also talks about the
much rumoured
mini version of the HTC One, Codenamed, M4, and reiterates that it will sport a 4.3-inch screen. Images of the phone had surfaced online earlier.
It's interesting to note that the HTC Butterfly (
Review
|
Pictures
) sports a 5.0-inch HD display and is the only phone from the company that features a large screen, though HTC had shied away from calling it a phablet. Samsung's Galaxy S4, HTC One's rival, also sports a 5.0-inch HD display.
The HTC One (
Review
|
Pictures
) comes with a 4.7-inch display which is not too small and offers more pixels per inch due to this. HTC has
reportedly sold
5 million HTC One handsets since its launch about a month ago despite component shortages and availability delays.
The phone is powered by a 1.7GHz quad-core Qualcomm Snapdragon 600 processor along with 2GB of RAM. Connectivity options include Wi-Fi 802.11 a/ac/b/g/n, Bluetooth 4.0, GPS, NFC, Infrared and Micro-USB. The smartphone runs on Android 4.1 (Jelly Bean) along with a brand new Sense UI.
There has been a lot of buzz around the HTC One camera, as the company has ditched the conventional megapixel in favour of something that the company dubs as the UltraPixel camera. There is a 2.1-megapixel front camera and a 2,300mAh battery.
The phone is now '
in-stock
' in India with online retailer Infibeam for Rs. 42,900.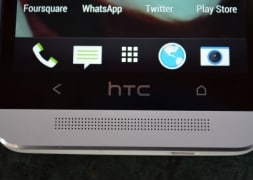 HTC One: First look