HTC has launched its flagship smartphone, HTC One, in the Indian market at a MOP/ Best Buy price of Rs. 42,900. The phone will be available from end of April.
HTC One features a 4.7-inch screen with 1080p display. It is powered by a 1.7GHz quad-core Qualcomm Snapdragon 600 processor along with 2GB of RAM. Connectivity options include Wi-Fi 802.11 a/ac/b/g/n, Bluetooth 4.0, GPS, NFC, Infrared and Micro-USB. The smartphone runs on Android 4.1 (Jelly Bean) along with a brand new Sense UI.
HTC One comes with 32GB of non-expandable storage, though a 64GB variant is available in other markets. No word from HTC when, and indeed if, the 64GB variant will hit Indian shores.
There has been a lot of buzz around the HTC One camera, as the company has ditched the conventional megapixel in favour of something that the company dubs as the UltraPixel camera. There is a 2.1-megapixel front camera and a 2,300mAh battery. Stay tuned for a full review of the HTC One.
"People today immerse themselves in a constant stream of updates, news and information. Although smartphones are one of the main ways we stay in touch with the people and information we care about, conventional designs have failed to keep pace with how people are actually using them," said Faisal Siddiqui, Country Head, HTC India.
"A new, exciting approach to the smartphone is needed and with the new HTC One, we have re-imagined the mobile experience from the ground up to reflect this new reality," he added.
The company has also bundled a data and content pack from Reliance Communications with the phone. Every Reliance GSM subscriber would be able to avail 1GB of 3G data free for 3 months along with free sharing of unlimited text, music, pictures and videos through WhatsApp and Facebook for 3 months. Users will also get free BigFlix subscription for 3 months that will enable Reliance 3G users to watch movies on the go without incurring any additional data charges.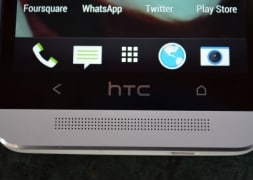 HTC One: First look
HTC One technical specifications
4.7-inch full-HD display
1.7GHz quad-core Qualcomm Snapdragon 600 processor
2GB RAM
32GB internal storage
UltraPixel camera
Wi-Fi 802.11 a/ac/b/g/n, Bluetooth 4.0, GPS, NFC, Infrared, Micro-USB
2,300mAh battery
Android 4.1
137.4 x 68.2 x 9.3mm
143g