HTC has expanded its Desire-series with the launch of Desire 520 (see above), Desire 526, Desire 626 (US), and Desire 626s in the US. All the new four
HTC
Desire smartphones will be available via major prepaid and postpaid telecom providers such as AT&T, Cricket, Sprint Prepaid, T-Mobile, Verizon Wireless, and Virgin Mobile among others.
The Taiwanese company, as of now, has not revealed pricing of the smartphones. It however notes that each telecom provider will start releasing the smartphone starting this week and will continue through coming months. The company stresses that the new Desire line-up brings features found in its flagship HTC One M9 to a more affordable range.
(Also see: HTC Desire 520 vs HTC Desire 526 vs HTC Desire 626 (US) vs HTC Desire 626s)
Notably, HTC had launched the Desire 626 in Taiwan earlier this year, however, it is a significantly different smartphone from the US model.
All the four smartphones - HTC Desire 520, HTC Desire 526, HTC Desire 626 (US), and HTC Desire 626s - pack a Qualcomm Snapdragon 210 quad-core processor clocked at 1.1GHz and feature 4G LTE connectivity. All the smartphones also run Android 5.1 Lollipop with the company's proprietary Sense 7 UI running on top. With Sense 7, the smartphones come preloaded with HTC Themes, HTC BlinkFeed, and HTC Sense Home applications. All four smartphones also feature 2000mAh batteries, microSD storage expandability up to 2TB, Wi-Fi 802.11 b/g/n, and Bluetooth 4.1.
The HTC Desire 520 features a 4.5-inch (480x854 pixels) display and supports single nano-SIM. Other specifications of the handset include a 1GB of RAM; 8GB of inbuilt storage; an 8-megapixel rear camera with LED flash, and a 2-megapixel front camera. The HTC Desire 526 (see above), on the other hand, features a 4.7-inch qHD (540x960 pixels) and 1.5GB of RAM. The rest of the specifications of the Desire 526 smartphone are identical to the Desire 520.
(Also see: HTC Desire 626 (US) vs HTC Desire 626)
Both the HTC Desire 626 (US) and Desire 626s come with few similar specifications, such as a 5-inch HD (720x1280 pixels), and an 8-megapixel rear camera. The Desire 626 (US) however packs 1.5GB of RAM, while the Desire 626s packs 1GB of RAM. There is a 5-megapixel front camera on the Desire 626 (US); though the Desire 626s sports a 2-megapixel front-facing camera. The Desire 626 (US) includes 16GB of inbuilt storage while the Desire 626s features 8GB.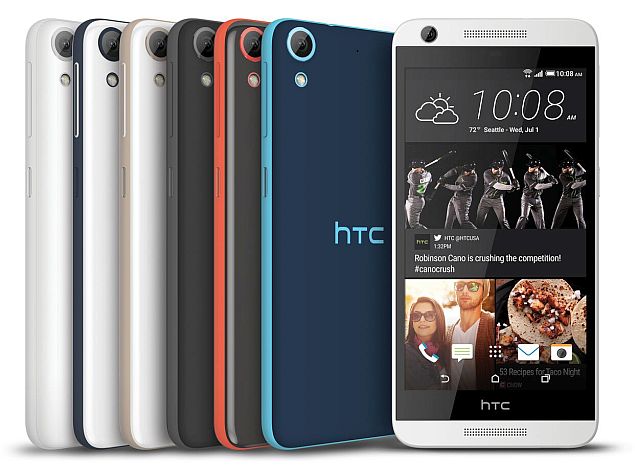 The HTC Desire 626 (US) and HTC Desire 626s (see above) will be available in dual colour combinations including Marshmallow White, Gray Lava, Blue Lagoon, Marine White and White Birch. The HTC Desire 526 will come in Stealth Black colour and the HTC Desire 520 will be available in Steel Grey.
Commenting on the launch, Jason Mackenzie, president of HTC America said, "At HTC, we don't think you should have to sacrifice or settle if you are looking for an affordable smartphone. That is why we are bringing the absolute best affordable smartphones to market with the HTC Desire line-up. Our Desire smartphones bring the premium experiences, performance and style of our flagship smartphone at an incredible price."