HTC announced the Desire 210 Dual SIM in India on Monday with a price tag of Rs. 8,700.
The HTC Desire 210 Dual SIM is powered by a 1GHz dual-core MediaTek (MT6572M) processor alongside 512MB of RAM. It comes with a 4-inch WVGA (480x800 pixels) display. As the name suggests, it is a dual-SIM (GSM+GSM) device which accepts a Micro-SIM, while the other SIM slot is a regular one.
Let's compare that with the Moto G. Motorola's budget offering - also launched in India as a dual-SIM device - is powered by a 1.2GHz quad-core Qualcomm Snapdragon 400 chipset, a relative powerhouse when compared to MediaTek's chipset inside the HTC Desire 210 Dual SIM. The Moto G also comes with twice the RAM (1GB) while also having a higher resolution (720p) display. Clearly, it's advantage Moto G as far as hardware specifications are concerned.
( Also see: HTC Desire 210 Dual SIM vs. Motorola Moto G )
The Moto G also trumps the HTC Desire 210 Dual SIM in terms of storage as even the cheaper variant of Motorola's smartphone comes with 8GB storage compared to 4GB in the HTC. Moto G runs a more recent version of Android (4.3 vs. 4.2 in HTC Desire 210 Dual SIM) as well as a higher resolution 1.3-megapixel front camera, compared to 0.3-megapixel (VGA) front-facing camera in the HTC. Finally, Moto G's battery capacity (2070mAh) is one-and-a-half times that of HTC's newest offering (1300mAh).
All these advantages of the Moto G, of course come at a price - nearly one-and-a-half times that of the HTC Desire 210 Dual SIM. The Moto G costs Rs. 13,999 for the 16GB variant (the one worth buying) and Rs. 12,499 for the 8GB storage variant. The HTC may come with limited internal storage, but it addresses perhaps the biggest limitation of the Moto G - it comes with a microSD slot. This could turn out to be a crucial difference between the two smartphones, as many find 8GB (and indeed 16GB) storage just not enough for their day-to-day needs. The ability to stream movies and music is great, but in a country like India which has limited connectivity, most still prefer to carry their media around. This is where a microSD card can make the difference.
While we would hesitate to make a recommendation for (or against) the HTC Desire 210 Dual SIM before we have had the chance to run it through our review process, there's no doubt the phone is an indication of things to come in the budget smartphone case. Whether these offerings can match the real world performance of the Moto G ( see: Moto G review ) remains to be seen.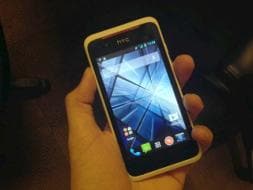 HTC Desire 210 Dual SIM in pictures
For the latest tech news and reviews, follow Gadgets 360 on Twitter, Facebook, and Google News. For the latest videos on gadgets and tech, subscribe to our YouTube channel.
Related Stories