The wait is over. The next version of Apple's mobile operating system, iOS 7, is now available. In Apple's words this is "the most significant iOS update since the original iPhone." Not only does the next iteration of the OS bring a completely overhauled user interface design, it also adds many missing features that were being offered by rival mobile platforms.
You'll be able to get it free of charge if your iPhone, iPad or iPod touch supports it and get an almost new device, in terms of software.
So how do you go about updating it? What are the things that you should keep in mind before updating? We try to answer this in our post.
1. Does your device support iOS 7?
iOS 7 is supported by iPhone 4, iPhone 4S and iPhone 5; iPad 2, third and fourth-generation iPads, iPad mini; and the fifth-generation iPod touch. Also, certain features of iOS may not be available on all devices. For instance, the iPhone 4S doesn't support features like AirDrop and live filters in the camera app. The iPad 3 also doesn't support AirDrop.
2. Backing up your device
If you don't regularly backup the data on your iPhone or iPad, now is a good time. You'd like your favourite apps and settings to transition to iOS 7 and for that you'll need to take a backup.
You can take a backup your device in two ways, backing up to iCloud (Apple's servers) or by backing up data to your Mac or PC via iTunes.
If you've enabled the option to backup data to iCloud, your device usually takes a backup automatically when it's charging, locked and connected to a Wi-Fi network. To check when the last backup was performed (if it's been enabled) go to the
Settings
app and tap on
iCloud
. You'll need to scroll down to the bottom of the menu where you'll see a
Storage & Backup
option under which it'll be mentioned whether
iCloud Backup
is off or on. If it's on, you'll also see the date and time when the Last Backup was done. Note that your device must be connected to Wi-Fi.
If the
iCloud Backup
option was off then you'll need to turn it on and take a backup. Mind you, iCloud offers only 5GB of free space. If you don't want to shell out extra for cloud storage space and have a lot of data in your phone, then you'd be better off backing up via iTunes.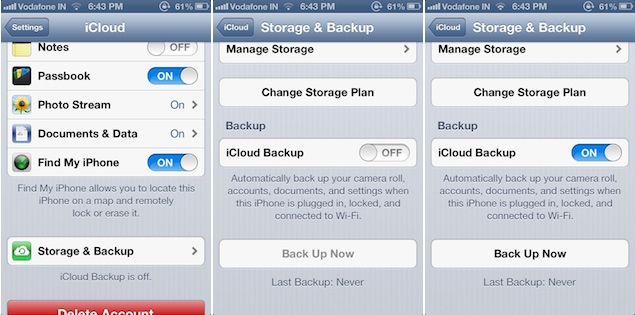 To backup to iCloud, first connect your iOS device to Wi-Fi. Now go to the
Settings
app and tap on
iCloud
. You'll need to scroll down to the bottom of the menu where you'll see the
Storage & Backup
option under which it'll be mentioned that iCloud Backup is off. Tap on the
Storage & Backup
, look for the
iCloud Backup
toggle and turn it on. Now tap on
Backup Now
. The phone will start taking a backup, but it might take some time so you can leave your device on its own for a bit. We'd recommend deleting apps that you don't use and pictures, and especially videos, that are not needed before backing up.
The second way to backup is by storing all your data on your PC or Mac via iTunes. To take a backup, connect the iOS device to a computer (PC/ Mac) through the USB cable. Make sure you computer is authorised with your iTunes account. If it isn't you can simply do so by clicking on the
Store
menu and selecting '
Authorize This Computer
' and entering your Apple ID. You may need to unlock the device if you've set a passcode before iTunes can sync or take a backup.
The device will show up under
Devices
in iTunes in the Sidebar on the left if you're using an older version of iTunes. If you're using iTunes 11, the device name would show up in the upper right hand corner.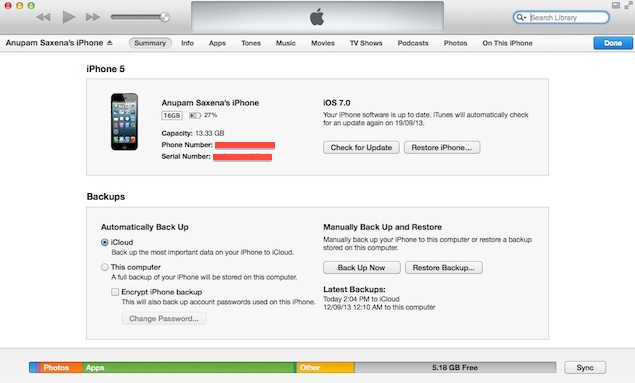 You can either click on the device name and click on
Back Up Now
from the device
Summary
page or simply right click/ control click on the device name and select
Back Up
.
If you want to ensure that the backup was successful or just want to check when the last backup was performed, you can go to
Preferences
(through
iTunes
menu on the Mac or
Edit
menu on Windows) and click on the
Devices
tab where your device backups and their time would be listed.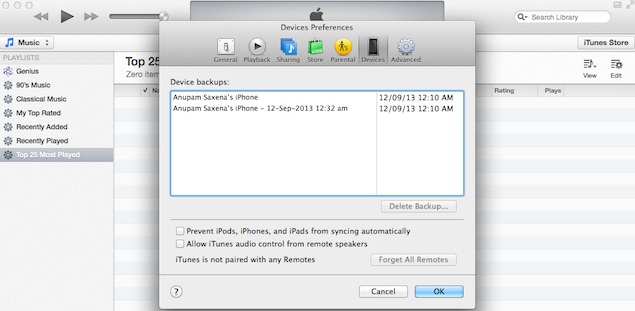 After ensuring that your device has been backed up, you can move on to installing iOS 7.
3. You can either install iOS 7 directly to your iOS device through an over-the-air Software Update via Wi-Fi or connect it to your computer and install the update through iTunes.
To upgrade over the air, go to the
Settings
app, tap on
General
and then on
Software Update
. Wait for the update message to appear and tap on
Download and Install
.
If you want to install the update through your PC or Mac instead, connect your device to the computer and wait for iTunes to open or fire it up manually. You'd typically get a software update prompt but if you don't just go to the device
Summary
page by clicking on the name of your iOS device, and click on the '
Check for Update
' button, and click on
Download and Update
.

Your iPhone would restart and display an Apple logo with the progress bar while it updates and iTunes will also display the status of the installation.
4. After updating your iPhone to iOS 7, you'll see a welcome screen, post that you'll be prompted to enable Location Services, following which you will get a page where you can select whether you want to
set up your iPhone as a new phone
,
restore from an iCloud Backup
or
restore from an iTunes Backup
. You'll need to enter your iCloud credentials and stay connected to a Wi-Fi network if you select the iCloud backup option or ail need to connect your phone to your computer if you select the iTunes option. After a few more prompts asking for your iCloud and iTunes credentials and pages displaying terms of use, you'll finally see your Home screen with a brand new OS.
Also see:
iOS 7 review