Google has lately been working hard behind the scenes to remove apps from the official Android app store - Google Play. The search giant on Tuesday released its Android Security 2015 Annual Report, saying the number of Android devices that installed Potential Harmful Apps (PHAs) from Google Play over the course of 2015 had dramatically reduced with the measures it had taken.
In the report, Google said that three of its safety practices had resulted in the dramatic improvement, specifically, by checking over 6 billion installed applications daily, scanning 400 million devices everyday to check for network-based on device threats, and protecting users from unsafe website and downloads via Safe Browsing on Chrome for Android. The company even improved its machine learning and event correlation to detect potentially harmful behaviour.
Google said these measures reduced the probably of installing a PHA from Google by over 40 percent. It added PHAs were installed on fewer than 0.15 percent of devices that only get apps from Google Play. About 0.5 percent of devices that install apps from both Play and other sources had a PHA installed during 2015.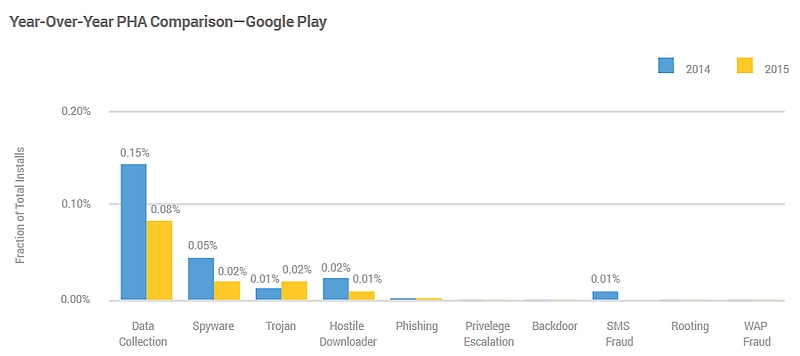 As for types of PHAs, data collection app install attempts dropped over 40 percent to 0.08 percent of installs, while spyware install attempts dropped 60 percent to 0.02 percent of installs, and hostile download install attempts dropped 50 percent to 0.01 percent of installs.
Google added that the PHA warning effectiveness of its Verify Apps service, which is important for users that install apps from sources other than Google Play, was improved by over 50 percent.
Earlier this month, Google shared its Android distribution numbers. As per the latest stats, Android Marshmallow version that was released last year, is finally running on 4.6 percent of active Android devices. To recall, Android Marshmallow in March was running on 2.3 percent active Android devices. Android Lollipop OS version still tops the list with 35.8 percent.
For the latest tech news and reviews, follow Gadgets 360 on Twitter, Facebook, and Google News. For the latest videos on gadgets and tech, subscribe to our YouTube channel.
Related Stories