Google wants to be everywhere: In your home, your car and even on your wrist.
That vision became increasingly clear at the search giant's annual conference for software developers Wednesday. The company unveiled plans to expand Android, its mobile operating system, for new categories like wearable computers and automobiles.
The announcements came on the heels of the company's recent acquisition of Nest Labs, the thermostat maker, for $3.2 billion, which gave Google a speedy entry into Internet-connected home appliances.
Google said the latest version of Android for smartphones and tablets, called Android L, would include a new design. Similar to Apple and Microsoft, Google adopted a "flat" design with more vibrant colors and added effects like shadows and animations. For example, when a user taps the screen, a small water ripple appears on the tapped area.
Android L also includes new features, like smarter authentication and anti-theft software. If a user is wearing a smartwatch paired with the device, he can unlock the phone without entering a passcode; when the watch is removed, the phone will require a passcode again. Google also said Android L, which will be available in the fall, would include a so-called "kill switch" for rendering a device unusable if it were stolen.
(Also see: Google, Microsoft to Put 'Kill Switches' in Android, Windows Phone Devices)
Google's annual software developers' conference, called Google I/O, has become an important venue for the company to woo app makers to build software for its Android software system, which powers more than 1 billion devices worldwide.
Rallying the troops of app developers is increasingly vital for Google as competition heats up with rivals like Apple and Samsung Electronics, who are also eager to make a shift into the next generation of computing.
Apple recently announced plans to expand its mobile software system, iOS, for home appliances, health-monitoring devices and cars. Samsung, the No. 1 cellphone maker, has released several smartwatches over the past year, and it recently held an event that focused on health-monitoring technology.
(Also see: Samsung Unveils Simband Wristband and a Healthcare Platform)
Google also shared its ambition to push Android deeper into areas beyond mobile devices, revealing details on Android Wear, a special version of Android tailored for wearable computers like smartwatches, which it introduced earlier this year.
Google said Android Wear was customized to show immediately useful information, like message notifications, the status of a package shipment, or the traffic status for a commute The smartwatch system is controlled by speaking or by swiping the touch screen.
When a user is traveling, the watch system will continue to bring up relevant contextual information based on his location, like the local bus schedule or the weather, according to David Singleton, an engineering director at Google.
Google said two smartwatches including Android Wear - Samsung's Gear Live and LG's G watch - would be available in its online retail store, Play, on Wednesday.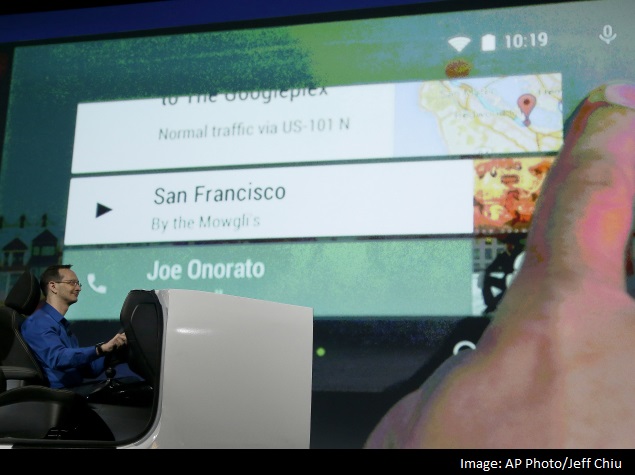 Google announced a version of Android customized for cars, called Android Auto. Google said it streamlined the design of the system to keep people's eyes off the screen and more on the road. It emphasizes access to maps, phone contacts and playlists, allowing users to easily access those features with the tap of a button or voice control. The car system will pair with a user's smartphone.
For television, Google announced Android TV. Users can speak voice commands into a smartwatch to search for programs to view and Google will find the programs if they are available for purchase in its online Play store.
Searching "Breaking Bad," for example, will bring up the show and information like its actors and the movies or shows they starred in. Users can also stream music and games from their tablets and smartphones to Android TV. Google said it had partnered with Sony, Sharp and Asus, and expected products including Android TV to arrive in fall.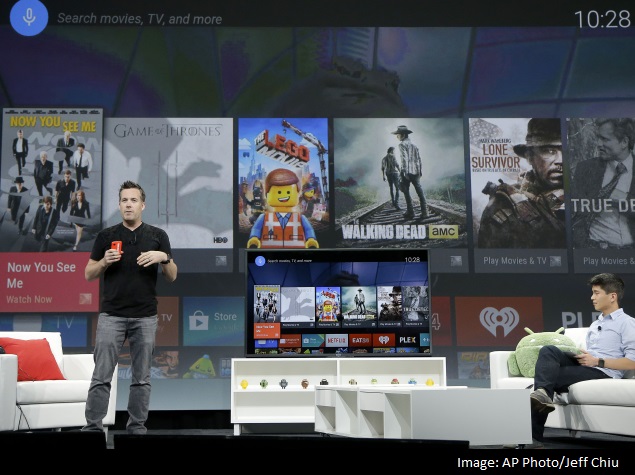 Television has been a tough market for Google. Android TV is its fourth attempt to push Android into television, after several approaches failed. One of its earlier attempts included Google TV, which came with a clunky remote and many limitations on what people could watch.
Google has found some success with Chromecast (Review), a stick that plugs into TVs and allows users to stream content from their smartphones or computers to the television. Released last year, Chromecast has been a top seller on Amazon. Google on Wednesday said it had improved Chromecast, allowing any phone to connect to the device without having to be on the same Wi-Fi network.
Google also said it worked hard to improve battery life for Android devices, with a tool called Project Volta. Its presentation of the feature was interrupted by a protester, who stood in front of the stage holding a T-shirt that read, "Develop a conscience." The protester claimed she was being evicted by a property owner who was a Google employee, before being escorted out by security guards.
© 2014 New York Times News Service