Google said 21 percent of tech hires last year were women, boosting overall number of women in technical roles by 1 percent, as part of efforts to increase diversity.
The company recently began disclosing the makeup of its workforce after admitting that it was "wrong, and that it's time to be candid about the issues."
The technology industry has long been plagued not just by allegations of a gender gap but also by a broad lack of inclusiveness that affects minorities too.
Google said Monday that the increase in Black and Hispanic employees outpaced the company's overall hiring growth, but made up for only 2 percent and 3 percent of total workforce, respectively.
"Though we still have a long way to go, we're seeing some early progress," the company said in a Google+ post.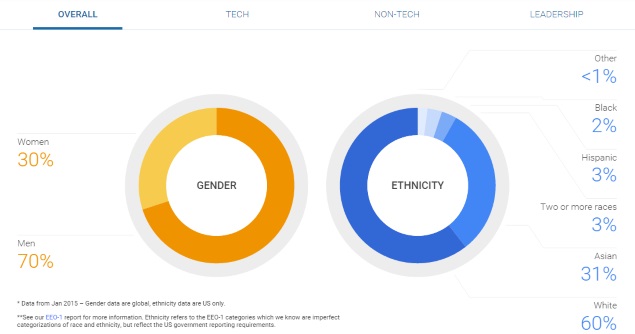 As of December 31, Google had 53,600 full-time employees.
In its Google+ post, the Mountain View giant broke down some statistics about women and minority hires.
-- 21 percent of the tech hires we made last year were women and the overall number of women in technical roles went up by 1 percent. This increase reflects some long-standing investments. For example, in 2010, just 14 percent of the Software Engineers we hired through our outreach at colleges and universities were women. Since then, we've invested $3 million in Anita Borg Scholarships for women pursuing computer science degrees, and worked to build a community of women in technology. This past year, 22 percent of software engineers hired through campus outreach were women - more than the percentage of women pursuing CS degrees today (18 percent). Other signs in the industry are also showing promise; this year 23 percent of attendees at Google I/O were women, up from 20 percent in 2014, and just 8 percent in 2013.

-- The increase in Black and Hispanic Googlers outpaced Google's hiring growth overall - but they still make up just 2 percent and 3 percent of the company, respectively. Still, we've laid groundwork to accelerate representation of Blacks and Hispanics. We've doubled the number of universities we recruit from, and we've deepened our partnerships with Historically Black Colleges and Universities. On the technical side, our Black and Hispanic communities grew by 39 percent in the U.S., compared to 28 percent tech growth overall. Our non-technical teams in the U.S. grew by 17 percent last year, while the Black community in grew by 38 percent and Hispanic by 22 percent in non-tech.