Google's much-anticipated next Nexus smartphone,
expected
to be called the Nexus 6 or Nexus X, is claimed to have been spotted in a couple of images.
The new leaked images are said to have been taken when the unannounced handset was being used by a commuter. First reported by Android Police, the new images show the front panel of an alleged Nexus 6 aka Nexus X smartphone. The two leaked images feature a smartphone with both the left and right sides hidden by a cover.
One of the purported Nexus 6 aka Nexus X images show the power and volume rocker keys placed near the centre of the right panel, in-line with earlier reports. Meanwhile, the headphone port can be seen in the middle of the top panel.
The other purported Nexus 6 aka Nexus X image, clicked from the left of the handset, shows the front panel clearly as well as a Moto X-like design. There is a front speaker visible below the display, while the on-screen navigation buttons tip that the handset is running a build of Android L. Notably, similar on-screen navigation bars were seen in a previous leaked image.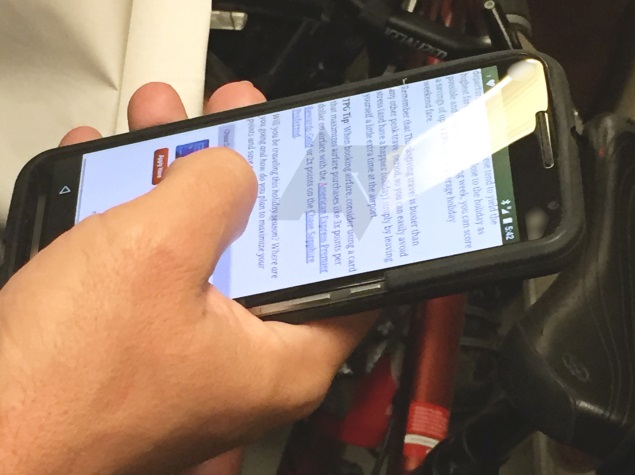 Further, the status bar seen in both the leaked images show solid status bar icons which are in-line with some recent mock-up images of the Nexus 6 and also Android L's Material Design philosophy.
Android Police points out that the status bar includes an extra icon of a heart alongside the usual Wi-Fi indicator. As of now, it is not clear whether the heart notification was from a third party app or from Google's own announced health-tracking platform, Google Fit.
The new leaked images of the alleged Nexus 6 aka Nexus X also give a rough idea about the size of the handset relative to the hand holding it, pegging it as a larger phone than the Moto X (Gen 2) that could very well boast of the 5.9-inch display that's been rumoured in the recent past.
A mock-up image based on information about the new Nexus smartphone surfaced online alongside some more details about innards of the handset, including purported specifications such as a large 5.9-inch QHD display offering a pixel density of 496ppi, a 13-megapixel rear camera with OIS with a "new dual-flash ring configuration," a 2-megapixel front-facing camera, and a larger than 3200mAh battery. The smartphone is expected to feature a Snapdragon 805 processor alongside 3GB of RAM.
Reports have for a while indicated that Google is partnering with Motorola for the next Nexus smartphone, and recent reports indicate it may be released in mid-October (October 15 or 16).