We might see the next Nexus smartphone (rumoured to be called Nexus 6 or Nexus X) and a new Nexus tablet (believed to be manufactured by HTC and dubbed Nexus 9) alongside the official release of Android L OS on October 15, hints a new report. In the meanwhile, a set of new leaked images have surfaced online tipping more details about unannounced Nexus 6 or Nexus X smartphone.
Tk Technews (via Phone Arena) has posted an image that purportedly shows the alleged Nexus 6 or Nexus X pictured beside the iPhone 6 Plus. The alleged Nexus 6 seems to feature a bigger screen, and is slightly wider and taller than the iPhone 6 Plus (which sports a 5.5-inch display) in side by side comparison.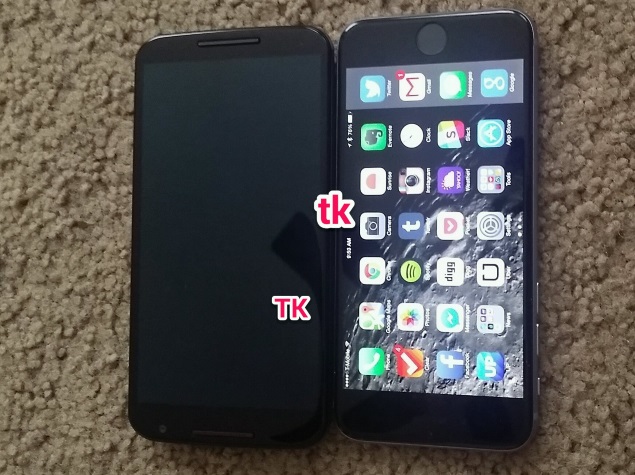 In addition to this, prolific phone tipster @evleaks is back after a period of relative quiet with a new render (seen above) of the alleged Motorola Shamu, rumoured to be the codename of the alleged Nexus 6 - named after a killer whale and implying a large phone. The smartphone seen in the leaked render looks like an elongated version of the Moto X (Gen 2) and the front panel sports a Moto X-like design.
On the other hand, AT&T ahead of any announcement from Google has listed (via Android Police) the 'Motorola Nexus 6' (as seen on the site). Notably, the alleged smartphone is listed with a price tag of $49.99 on contract. However, the image seen in the listing is clearly of the LG G Vista and the alleged Motorola Nexus 6 phone is seen in the sidebar of the LG G3 Vigor page.
Reports for a while have been tipping that Google's new Nexus smartphone and tablet alongside Android L OS will be released by mid-October (October 15-16), and a new report by Forbes goes in-line with earlier claims.
Jay McGregor in the Forbes report suggests that the Nexus 9 (previously codenamed HTC Volantis) will be launched on Wednesday and will be the first device to run Android L out-of-the-box.
McGregor's sources also claimed that alongside the Nexus 9, the Motorola-built Nexus 6 aka Nexus X smartphone will also be unveiled via a blog post. He further suggested that the Nexus 9 will go on pre-order starting October 17, and will be available for sale only beginning November 3. The purported pricing for the Nexus 9 tablet is - $399 (Rs. 24,500 approximately) for the 16GB model, which along with the dates is in-line with an earlier report, and $499 (Rs. 30,600 approximately) for 32GB LTE variant.
Reportedly both the Nexus 9 variants will come with expandable storage support, a feature that has been missing in Nexus devices since the first offering. The report also tips purported specifications of the Nexus 9, which are in-line with previous leaks, to include an 8.9-inch (2048x1440 pixels) display; 480 grams weight; 64-bit dual-core processor (Nvidia Kepler GPU) and an 8-megapixel rear camera alongside 3-megapixel front-facing camera. The report suggests that HTC has opted for a 'brushed aluminium' frame instead of an all metal frame for keeping the cost down.
Other expected features from the alleged Nexus 9 include Boomsound, a feature which has been seen on HTC's One smartphone family, and dual front-facing speakers.
The report notes, "An additional origami magnetic stand-case will be available tomorrow [Wednesday] which can apparently be bent into any shape - and can fold in all directions - to prop the tablet up."