Google released the Android 5.1 Lollipop factory images for the Nexus 5 and other Nexus devices in early March, and then said the rollout of the update over-the-air (OTA) has begun. After another report last month about the OTA rollout having begun for the LG Nexus 5, the Android 5.1 Lollipop OTA update has now started rolling out in India.
The Android 5.1 Lollipop OTA update with build number LMY47I for LG-made Google Nexus 5 weighs 220.7MB, and is recommended to download through a Wi-Fi connection. The update comes with several bug fixes and some much-needed features, which were earlier missing from in the Android 5.0 Lollipop OS version.
As mentioned before, the update brings improved overall stability and an enhanced ART (Android Run Time) making apps open faster than before. Issues with "Okay Google" have also been fixed. Nexus 5 users can now also search for different Wi-Fi and Bluetooth connections directly from the 'Quick Settings' option in the notification panel without opening the 'Settings' page.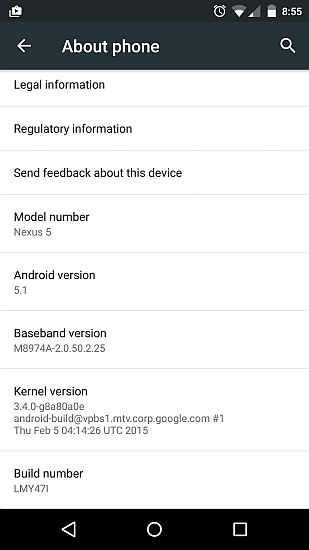 Also, the system volume can be changed while playing audio. Alarm volume can be changed from within clock app. Some of the other changes include new 'No interruptions until next alarm' option in Priority mode; improved heads-up notifications that let users swipe up to collapse; improved battery life, and lock screen remains locked when swiping within notification settings.
(Also see: How to Download and Manually Install Android 5.1 Lollipop on Google Nexus 5, Nexus 7, and Nexus 10)
The update will be reaching all Nexus 5 smartphones gradually. However, those who are impatient for the OTA rollout in their regions can install the factory image - refer to our guide on how to download and manually install the Android 5.1 Lollipop factory image.
Notably, soon after announcing the new OS version last month, Google on its AOSP issue tracker page acknowledged a memory leak bug for some users that causes apps to crash and fills up the device's memory. The company said the issue had been fixed internally, but did not provide a timeline for the rollout of the fix for end users. Unfortunately, the memory leak issue has existed for some users since Android 5.0 Lollipop, and Google had back in December announced a fix had been arrived at and had marked it for future release.
For the latest tech news and reviews, follow Gadgets 360 on Twitter, Facebook, and Google News. For the latest videos on gadgets and tech, subscribe to our YouTube channel.
Related Stories