Sundar Pichai, Senior Vice President at Google, has announced the dates for this year's Google I/O event. The event, which is set to be held on May 28 and May 29 at Moscone Center West, San Francisco, has its own website giving relevant details about the event to those who plan to attend it.
"Excited to announce dates for Google I/O in San Francisco on May 28-29, 2015. More details at https://events.google.com/io2015/," tweeted Sundar Pichai on Wednesday.
Taking into account the massive number of developers and fans interested in attending the event, Google, like last year, will be selecting the attendees at random in a lottery. Those who are selected will then be given a chance to buy the tickets for Google I/O 2015. Registration for tickets will commence March 17 9am PDT (10:30pm IST) and will continue for two days. The ticket price is not yet known. Last year's Google I/O tickets cost $900 (roughly Rs. 56,000).
For those who are not able to attend Google I/O, the Mountain View giant will be live streaming the event on the dedicated website. While last year's theme was adapting Android to various new platforms like automobiles and wearables, besides announcing the Android One initiative and 'Android L' (which eventually became Android 5.0 Lollipop), this year's Google I/O website and the logo (seen above) point towards a stronger Material Design integration in Android. We are also expecting big news about Google's Project Ara initiative as well, which is set to be launched as a pilot in Q3 2015.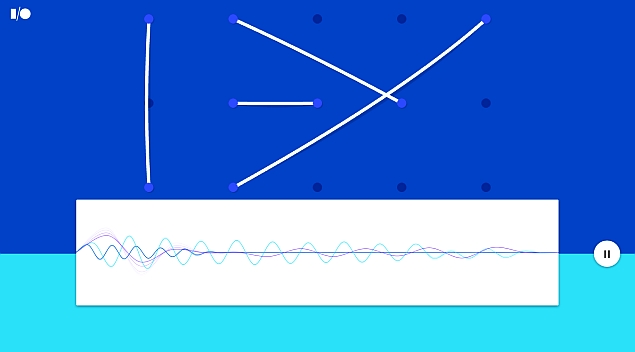 The Google I/O 2015 website also features something called 'Chrome Experiment', clicking on which lets users create and record music by connecting dots and hovering the mouse on the strings. However, Google has not yet detailed its intentions behind the inclusion of the project. The Chrome Experiment also features the Left Shark hidden in the code, which can be accessed by running the dev console, and run experiment.consoleDance(). An mp4 of the shark is also hidden in the page's source code.
For the latest tech news and reviews, follow Gadgets 360 on Twitter, Facebook, and Google News. For the latest videos on gadgets and tech, subscribe to our YouTube channel.
Related Stories