Google and
Chinese e-commerce giant Alibaba
have been busy in the war of words over Android for the last few days and it does not seem to stop. On one hand, Google is claiming Alibaba's Aliyun OS is a non-compatible version of Android, while Alibaba states that Aliyun is built on open-source Linux and it has its own applications and has nothing to do with Android.
How did it begin?
It all started with the abrupt cancellation of Acer's smartphone launch in China. Powered by Alibaba's Aliyun OS, the Acer CloudMobile A800 was set to be announced on Thursday in Shanghai, but was postponed indefinitely at the last minute because of Google's alleged interference. Alibaba told in a statement that Acer "was notified by Google that if the product runs Aliyun OS, Google will terminate its Android-related cooperation and other technology licensing with our partner....We regret Google's action."
Google, which was initially silent on the matter, later came out with a statement, but did not clearly state that it had anything to do with the cancellation of the Acer smartphone launch. However it made it clear that operating systems like Aliyun were not good for the Android ecosystem.
Compatibility is at the heart of the Android ecosystem and ensures a consistent experience for developers, manufacturers and consumers.

Non-compatible versions of Android, like Aliyun, weaken the ecosystem. All members of the Open Handset Alliance have committed to building one Android platform and to not ship non-compatible Android devices.

This does not however, keep OHA members from participating in competing ecosystems.
So, what is OHA or Open Handset Alliance?
OHA was created in 2007 along with Android and is a group of 84 technology and mobile companies, which are committed to Android and to commercially deploy handsets and services using the Android platform, as stated on OHA website. Acer, which is at the centre of current controversy, became a part of OHA on June 1, 2009 and it also noted similar commitment to Android in the press release issued at the time of joining OHA.
As a member of the Open Handset Alliance, Acer will work with its members to contribute to the development of the Android platform and bring consumers a far better user experience than much of what is available on today's mobile platforms. By joining the Open Handset Alliance, Acer demonstrates its support for Android as an open mobile platform and its commitment to Android's commercial success.
So, clearly as OHA member Acer is bound to work for the betterment of Android but can also work on competing ecosystems, but as Google has no problem with it working with other platforms like Windows Mobile, then why with Aliyun? If Alibaba does not claim or want Aliyun to be officially an Android compatible version and whether Aliyun is good or bad, why should Google have to worry about it?
Because it is about the policy and repercussions of such operating systems, which allow Android applications to work on them and in turn lead to piracy of Android apps. The pirated Android apps can easily be seen in the Aliyun app store. It contains pirated copies of Google's applications and a lot of other popular games and apps like Temple Run. So, Google is right that as an OHA member Acer should not support such operating systems, which are harmful for the Android ecosystem.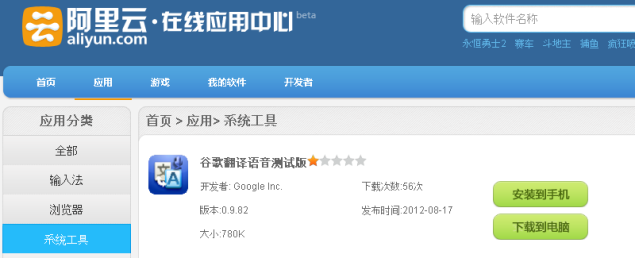 Google SVP of Mobile and Android boss Andy Rubin posted on Google+ voicing the compatibility concerns:
We were surprised to read Alibaba Group's chief strategy officer Zeng Ming's quote "We want to be the Android of China" when in fact the Aliyun OS incorporates the Android run-time and was apparently derived from Android.

Based on our analysis of the apps available at http://apps.aliyun.com, the platform tries to, but does not succeed in being compatible.

It's easy to be Android compatible, the OHA supplies all the tools and details on how to do it.
He also published a detailed blog post on the official Android blog regarding the importance of compatibility in Android and also made a major point towards the current controversy:
While Android remains free for anyone to use as they would like, only Android compatible devices benefit from the full Android ecosystem. By joining the Open Handset Alliance, each member contributes to and builds one Android platform -- not a bunch of incompatible versions.
Rubin even gave an example of how non-compatible devices can harm the ecosystem:
Imagine a hypothetical situation where the platform on each phone sold was just a little bit different. Different enough where Google Maps would run normally on one phone but run terribly slow on another. Let's say, for sake of example, that Android implemented an API that put the phone to sleep for a fraction of a second to conserve battery life when nothing was moving on the screen. The API prototype for such a function might look like SystemClock.sleep(millis) where the parameter "millis" is the number of milliseconds to put the device to sleep for.

If one phone manufacturer implemented SystemClock.sleep() incorrectly, and interpreted the parameter as Seconds instead of Milliseconds, the phone would be put to sleep a thousand times longer than intended! This manufacturer's phone would have a terrible time running Google Maps. If apps don't run well across devices due to incompatibilities, consumers would leave the ecosystem, followed by developers. The end of the virtuous cycle.
While Google is right in saying all this, the compatibility concerns are unfounded in this particular case, as we pointed out earlier.
As expected Google and Andy Rubin's response did not go well with Alibaba, which was already not happy with the smartphone cancellation and John Spelich, Alibaba's VP of international corporate affairs, came out in strong words and even questioned the openness of Android:
Aliyun OS is not part of the Android ecosystem so of course Aliyun OS is not and does not have to be compatible with Android. It is ironic that a company that talks freely about openness is espousing a closed ecosystem.

This is like saying that because they own the Googleplex in Mountain View, therefore anyone who builds in Mountain View is part of the Googleplex. Will someone please ask Google to define Android?
It may not be totally right, but Alibaba raises a valid point.
What is Android and how much of it is Google?
There are currently many Androids floating all around us. The Amazon Android in Kindle Fire, or Barnes & Noble's Android in Nook Tablet or several such and then there's Google's Android, which has access to Google Play and other Google services and can use the Android logo.
The whole point of providing Android source under Apache v2 Open Source license is such that Android will rise every day and that is the beauty of the Android Open Source Project (AOSP).
But, it is high time Google made a clear distinction. The so-called compatible Android or Google's Android, needs to called that and the AOSP Android needs a separate name, as Marketing Land pointed out in a recent article.
Recent actions like renaming Android Market to Google Play are crying out loud for such change.
But, the war of words did not stop at Alibaba's statement, Andy Rubin replied to Spelich's comments on Google+ and also raised the piracy issue:
Hey John Spelich -- We agree that the Aliyun OS is not part of the Android ecosystem and you're under no requirement to be compatible.

However, the fact is, Aliyun uses the Android runtime, framework and tools. And your app store contains Android apps (including pirated Google apps). So there's really no disputing that Aliyun is based on the Android platform and takes advantage of all the hard work that's gone into that platform by the OHA.

So if you want to benefit from the Android ecosystem, then make the choice to be compatible. Its easy, free, and we'll even help you out. But if you don't want to be compatible, then don't expect help from OHA members that are all working to support and build a unified Android ecosystem.
But, why is Google so adamant on making Aliyun compatible with Android, or stopping Acer from launching an Aliyun smartphone? Probably, because it can see that Android, which is currently the biggest smartphone OS in China, is going to lose the top spot, courtesy operating systems like Aliyun. Remember Google's search competitor Baidu also introduced Yi OS last year, which is similar to Aliyun and also based on AOSP Android (or more politically correct Linux-based).
Despite being derived from the Android code, all these operating systems are not Android (or let's say not compatible with Android) but are emerging as the biggest competitors for Google's Android in China. Google does not want that thus all this brouhaha over a smartphone launch.