Cortana is undoubtedly one of the most anticipated features of the Windows Phone 8.1, first introduced along with the new iteration of the mobile OS in April. While the feature was until now available only in beta form and only in the US, it has now been noted that the voice-based virtual assistant will be reaching the UK shores within two weeks.
According to a tweet by Marcus Ash, Cortana's Program Manager, the voice-based virtual assistant will be available in less than two weeks for devices running Windows Phone 8.1 developer preview.
"@petestensones @WindowsPhoneUK Barring an unforeseen issue, down to less than 2 weeks for the developer preview," stated the Twitter post. However, the exact date has not been mentioned as of now.
Ash also added in further tweets that the dedicated Microsoft team learnt a lot about 'scaling' while working on Cortana. "@petestensones @WindowsPhoneUK Thanks for your patience. Tough project but we have learned a lot about scaling. Now we need to finish."
Cortana will also boast a British accent says Ash. Neither the exact date of arrival has been mentioned nor Cortana's availability to devices not running the developer preview Windows Phone 8.1.
Last month, Ash also added that along with UK, China will also receive Cortana within weeks.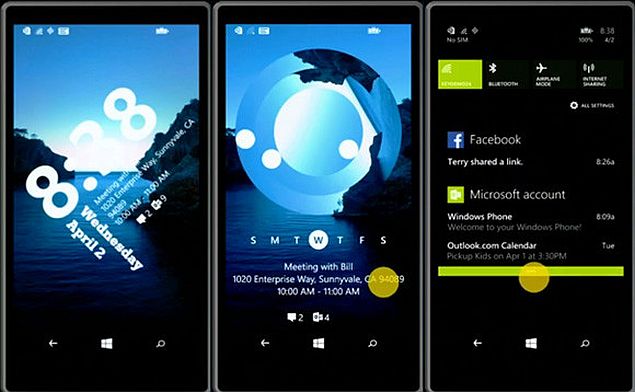 Besides the news of Cortana arriving in the UK, a tweet by Joe Belfiore, Corporate Vice President and Manager for Windows Phone Program Management at Microsoft, states the arrival of the customisable new lock screen app for Windows Phone 8.1 smartphones will arrive in about a week's time - a feature that would enable users to utilise Lock Screen themes.
"Lockscreen app- sorry for being quiet. The beta (English, 1gb+) is ALMOST here, perhaps a week. We hit a few snags & added a feature," states the Twitter post.
It has been mentioned that Windows Phone 8.1 smartphones with 1GB of RAM or more will be able to install and run the new lock screen app, which is currently only available in beta and with language support limited to English. The new lock screen app, by enabling first and third-party themes, is said to add a greater degree of customisation to the handsets. More details will be known about the new lock screen app, and what features it brings apart from enabling themes, once it becomes available to download.