An upcoming iOS update could bring a feature that would inform users if their iPhone handsets are under company supervision. The iPhone maker has been spotted testing the feature in the latest beta of iOS 9.3.
According to Reddit user MaGNeTiX, the latest beta of iOS 9.3 reminds people if their Internet traffic and location is being monitored by their employers. The message appears on the lock screen as well as on the settings page.
"This iPhone is managed by your organization," the message on the lock screen reads. On the settings page, the message says, "This iPhone is supervised. [Your organization] can monitor your internet traffic and locate this device."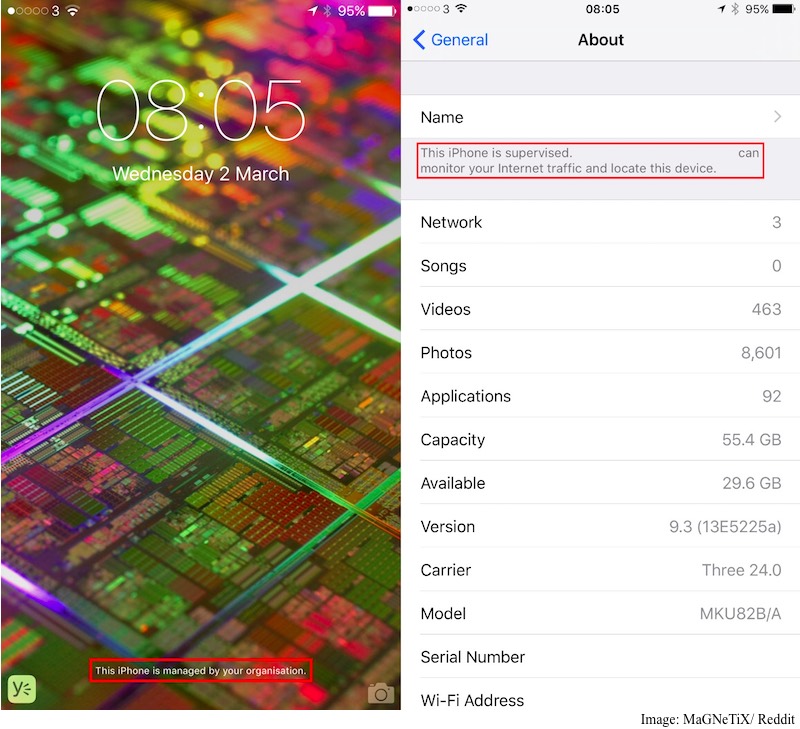 It's a welcome move as many people who use an iPhone that's owned and managed by their company do not realise that their Internet traffic and location can be easily tracked. Being reminded could push concerned people into using a different phone for personal usage.
The discovery of the feature comes amid Apple's ongoing battle against FBI. The government intelligence organisation wants the Cupertino-based company to help it unlock the iPhone of one of the terrorists responsible for the attack in San Bernardino. Apple insists that it doesn't have the technology to circumvent the lock screen security.
Separately, it has been found that iOS 9.3 will also come with a feature that will allow IT administrators to dictate the layout of apps on a user's iPhone home screen. In other words, your company will be able to lock apps on your iPhone, preventing you from downloading an app of your choice, and uninstalling an app of their choice. Developer Steven Troughton-Smith tweeted that iPhone models with mobile device management access will be subjected to "enforce[d] homescreen layouts, black/whitelist apps, and enforce[d] notification settings."
For the latest tech news and reviews, follow Gadgets 360 on Twitter, Facebook, and subscribe to our YouTube channel.
Related Stories