Blackphone, a smartphone focused on the user's privacy, is now available for pre-order from its own official website for $629 (Rs. 39,000 roughly). While the pre-orders are open for Blackphone, the device will start shipping from June 2014. The privacy-focused smartphone was scheduled to be launched at MWC 2014, after it was unveiled earlier in January.
The Blackphone, which is a creation of GeeksPhone, a Spanish smartphone maker, along with Silent Circle, an encrypted communications firm, is available with free shipping charges for a number of countries including India. However, along with 15 percent tax, the smartphone will ultimately cost $723 (roughly Rs. 45,000) in India, not to mention the local custom duties that you may attract while importing the phone.
The Blackphone can be pre-ordered from here. The company says users can also return the Blackphone back if they are not satisfied, and they will be refunded later.
Some of the hardware specifications listed for Blackphone on the pre-order page include a 4.7-inch HD (720x1280 pixels) IPS display; >2GHz quad-core SoC; 2GB of RAM; 16GB inbuilt storage; 8-megapixel rear camera; 1.3-megapixel front-facing camera; Bluetooth 4.0; LTE connectivity; Wi-Fi 802.11n, GPS and HSPA+.
The Blackphone is powered by a custom version of Android made by GeeksPhone in association with Silent Circle, called PrivatOS. The OS will allow the user to make and receive secure calls, send encrypted text messages, store files securely and browse the web through an anonymous VPN.
Phil Zimmermann, one of the creators of the Blackphone, stated, "I have spent my whole career working towards the launch of secure telephony products. Blackphone provides you with everything you need to ensure privacy and control of your communications, along with all the other high-end smartphone features you have come to expect."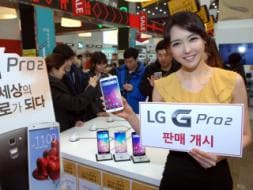 MWC 2014 in pictures