BlackBerry Ltd unveiled a new, cheaper touchscreen smartphone and a "classic" model with a keyboard on Tuesday, as it tries to stem losses and win back a once devoted following by security-conscious business and government users.
The Z3 smart phone, which is to be priced at under $200, is being built under a partnership deal with FIH Mobile Ltd - the Hong Kong-listed unit of Taiwanese electronics giant Foxconn.
Code named Jakarta, it will go on sale in April in Indonesia, where BlackBerry's BBM messaging service is proving very popular, said John Chen, the group's new chief executive who took over late last year.
"It's going to be under $200 on retail price," he said at the annual Mobile World Congress trade fair in Barcelona.
"It's a 3G phone, and we have a plan to expand the phone to different parts of southeast Asia after Indonesia, and in addition we have a plan to go global with an LTE (high speed 4G) version of it some time in the future."
BlackBerry, once a must-have device for every business executive and government official because of its pioneering secure email service, has haemorrhaged market share to Apple's iPhone and rival devices running on Google's Android software.
Opening up its BBM messaging service to be available on other operating systems - with Windows Phone the latest addition - has further hit device sales, particularly in emerging markets.
Research group IDC put BlackBerry's share of the smartphone market in the fourth quarter of 2013 at just 0.6 percent, down 77 percent on a year earlier.
Chan appeared on stage with Foxconn chairman Terry Gou in testament to a burgeoning relationship that is set to deepen with the announcement that the Taiwanese company will also make the new "classic" BlackBerry.
The Q20, available before the end of the year, will have a traditional BlackBerry layout, aimed squarely at the company's original core business and government customers, Chen said.
The back-to-the-future design was top of customers' wish list, he said. "A lot of customers love our keyboards."
Analysts at CCS Insight said each of the two new devices were for "BlackBerry faithful", and they would be critical to the success of the group's approaches to two distinct sets of fans.
Chen's strategy for the Canadian firm is to focus more on its profitable services segment that helps its large government and corporate clients manage and secure mobile devices on their internal networks.
Admitting the company had spread itself "a little too thin", he said it would focus on the 30 percent of the enterprise market where the strength of BlackBerry's operating system in terms of security played best - regulated industries like banking and telecommunications, and government.
"We don't want to lose the rest of the market but for the next 18 months I think you see us very much intent on going back and winning the regulated industries," he said.
(Also see: BlackBerry Z10 price in India slashed to Rs. 17,990 for a limited time)
He unveiled changes to the company's mobile device management tool for companies and government in Barcelona, taking prices lower with the aim of winning back some of the market share lost to competitors.
Foxconn partnership
Despite shifting the focus away from its loss-making handset business, Chen has indicated that the segment remains a core asset for the company.
The price of BlackBerry's devices, while competitive, would reflect the group's security credentials, he said.
"We need to build very solid phones that are more skewed toward the high-end," he said. "We are not going to play 'let's build a $75 phone'. That's not our sweet spot."
BlackBerry signed a landmark five-year deal last year with contract electronics manufacturing giant Foxconn, that sees BlackBerry no longer pay upfront for components used in the devices.
Instead, Foxconn, the trading name of Hon Hai Precision Industry, will take a share of profits on each device in return for taking on inventory management. Foxconn is also helping to develop, design and distribute the handsets.
The partnership also gives Foxconn a step up in the value chain - a chance to not just assemble smartphones, but help design them too.
© Thomson Reuters 2014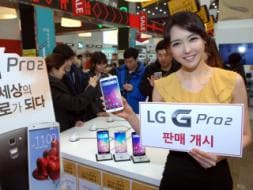 MWC 2014 in pictures