Over the past few months, there have been plenty of news regarding the forthcoming BlackBerry 10 smartphones, courtesy
multiple leaks time and again
. Research in Motion(RIM) is all set
to launch
its brand new operating system BlackBerry 10 at a packed event in New York City on January 30.
Now, courtesy Engadget, pricing details of the BlackBerry Z10 smartphone have emerged. The device will witness a 480 Pounds pricing in the UK. This pricing is based on a purported image from online UK retailer Carphone Warehouse's database.
We've known for a while now that BlackBerry will be unveiling two new devices at that event. The first will be an all-touch device dubbed BlackBerry Z10 and a QWERTY device that is likely to be called BlackBerry X10. Both the devices have been leaked extensively over the past couple of months.
Only a week ago the leaked pictures of two BlackBerry Z10 dummy units that were posted on Instagram. According to reports at CrackBerry.com the BlackBerry Z10 smartphone is expected to start retailing in Canada from February 5th in both black and white models. It will be available through two of the popular telecom operators. We had earlier reported that the unlocked smartphone will cost 700 Canadian dollars.
Apart from these, RIM has also admitted that they will be airing 30 second commercials for the BlackBerry 10 during the Super Bowl XLVII that will be aired in both US and Canada. The press release further mentions, "BlackBerry 10, its new mobile computing platform that will power the next generation of smartphones and tablets, will be featured in a commercial during Super Bowl XLVII."
The use of the word 'tablets' in the press release has raised a lot of questions. It is possible that we might perhaps get a glimpse of the BlackBerry 10 tablet sooner than we thought. There have also been speculations that the BlackBerry 10 tablet might be a part of the January 30 event. However, things do sen a bit uncertain right now as far as the tablet is concerned.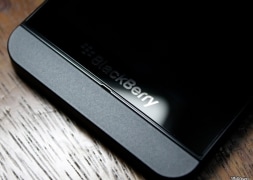 Is this the BlackBerry 10 L-Series smartphone?
For the latest tech news and reviews, follow Gadgets 360 on Twitter, Facebook, and Google News. For the latest videos on gadgets and tech, subscribe to our YouTube channel.
Related Stories