Twitter user @evleaks has done it again. The subject of the latest leak is the much-awaited BlackBerry 10 smartphone.
According to @evleaks, RIM plans to ditch 4 digit names (like BlackBerry Curve 9300) and call the forthcoming full-touch
BlackBerry 10
smartphone the 'BlackBerry Z10'. So far we've known this phone as the BlackBerry L-series smartphone. @evleaks further states that the BlackBerry Z10 will be available in black and white colour options.
@evleaks also
mentioned
that the QWERTY BlackBerry 10 device, expected to be unveiled later next year, might be called the BlackBerry X10.
As the January 30 launch date draws closer, we've seen several leaks, but this is the first time we've heard an official name for the phone being mentioned. We've also heard rumours that RIM plans to release two BlackBerry 10 smartphones on launch, so it'll be interesting to see if details of the second device pop-up in the near future.
The BlackBerry Z10 seems to be the same device that a Vietnamese blog had
posted pictures
of last week. They later released a
detailed hands-on video
with the same.
We've also seen the BlackBerry 10 OS being demoed across various official and unofficial videos. The BlackBerry 10 operating system has been designed afresh from the ground-up, with an interface optimised for touch-screen devices. At the heart of BlackBerry 10 is the BlackBerry Hub, which is the focal point of the new operating system. BlackBerry Hub is the one-stop place to access all your messages - from social networking to work and personal emails, from BBM to text-messaging and voice calls. BlackBerry 10 comes with a new soft-keyboard that learns user habits and gets better at predicting input over time.
Earlier, RIM
sent out media invitations
for a special event to be held in New York on January 30 where it will officially unveil BlackBerry 10 smartphones and brand-new operating system. The event is one of multiple events that RIM is expected to hold across the world, as it prepares for perhaps the most significant launch in its history.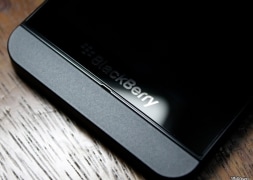 Is this the BlackBerry 10 L-Series smartphone?
Image courtesy: @evleaks
For the latest tech news and reviews, follow Gadgets 360 on Twitter, Facebook, and Google News. For the latest videos on gadgets and tech, subscribe to our YouTube channel.
Related Stories