Kantar Worldpanel, which tracks consumer behaviour and knowledge based on market monitoring, has recently released their fourth quarter 2013 numbers for the market share of various mobile OS platforms in different regions worldwide, compared with same period in 2012.
According to the report, the period from October to December has been a tumultuous one for BlackBerry, which has seen its market share across the globe decline sharply since Q4 2012. Apple's iOS as well has seen a sharp decline in numbers across the regions counted. On the other hand, market share has increased sharply for Google's Android platform and for Microsoft's Windows Phone in most regions.
The report also finds that in the fourth quarter BlackBerry lost heavily all over USA, Latin America and Europe. In the US, the Canadian smartphone maker lost its share and fell from 0.9 percent in Q4 2012 to 0.4 percent in Q4 2013. On the other hand iOS fell from 49.7 percent to 43.9 percent. Android gained from 46.2 percent to 50.6 percent finally crossing the 50 percent mark to lead in the US. Windows Phone on the other hand also saw a rise form 2.4 percent to 4.3 percent.
Latin America, which was a traditional BlackBerry stronghold, also saw the numbers decline for them. They fell heavily from 10. 3 percent in Q4 2012 to reach a share of 2.8 percent in the same period last year. On the other hand, iOS, fell from 4.4 percent to 4.3 percent. The highest gainer again, was Android, which increased from 61.6 percent to 83.5 percent. Windows Phone fell from 6.8 percent to 4.9 percent.
In Europe, (EU5-France, Germany, Italy, Spain, United Kingdom), the market share for BlackBerry fell from 3.7 percent to 1.5 percent, while iOS fell from 23.7 percent to 18.5 percent. Android rose from 62.9 percent to 68.6 percent. Windows Phone too saw a surge from 5.6 percent to 10.3 percent. For country-specific EU5 numbers, refer to the chart.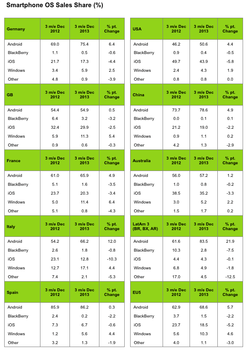 It was only in China that BlackBerry saw a gain, where they increased from no market share (0.0) in Q4 2012 to 0.1 percent in Q4 2013. Android increased its presence from 73.7 percent to 78.6 percent in China, while iOS fell from 21.2 percent to 19.0 percent - though these numbers should change soon with China Mobile rolling out its iPhone line in January. Windows Phone gained only slightly to go up from 0.9 percent in 2012 to 1.1 percent in 2013.
With the numbers coming in, BlackBerry will have to seriously rethink strategies so that they can bounce back in the market. Apple has also been steadily losing iOS market-share globally, and once again might need to consider a low-cost variant to address the Android invasion. With the Nokia mobile devices portfolio soon to be under Microsoft's wing, the Windows Phone platform may benefit from the association, and the Redmond giant has also been exploring co-marketing strategies with other major manufacturers.