It seems the Canadian handset manufacturer has a new strategy for its revival, as it has detailed four new smartphone categories in a published report. BlackBerry's VP of Global Product Management, Francois Mahieu in an interview explained the company's plans related to bringing new devices to market.
As Mahieu explains to Crackberry, the company's current philosophy is to divide its upcoming smartphones into four categories - Affordable, Classic, High-end and Prestige.
The Affordable category will see the products like the Z3 smartphone, which the company recently announced at MWC 2014. The smartphone is to be priced at under $200, and is being built under a partnership deal with FIH Mobile Ltd - the Hong Kong-listed unit of Taiwanese electronics giant Foxconn.
BlackBerry also announced a new QWERTY handset, the BlackBerry Q20, at MWC 2014. As we now know, the Classic term is not a codename for the Q20, but a category that will feature BlackBerry's popular QWERTY physical keyboard, along with a 'tool belt'. The latter refers to the BlackBerry-standard trackpad and buttons (like call, menu and back). The company claims the design is still loved by users, and that it will continue to offer smartphones in the Classic series for these customers.
John Chen, during the launch of two BlackBerry smartphones, mentioned that the company is also working on some new high-end smartphones, but did not mentioned when they would arrive. The devices are expected to be made available in the American summer. Although Mahieu in his interview didn't throw much light on these devices, it is reasonably certain that the company is looking at quad-core and octa-core processors for this High-end category.
The last upcoming BlackBerry smartphone category described by Mahieu is the premium Prestige category, which will include devices like the Porsche Design BlackBerry P9982, featuring designer looks and exorbitant build materials.
For now, apart from a slight description of form factor and expected release date, not much is known about the two new BlackBerry 10 OS smartphones announced at MWC, the Z3 and Q20. Stay tuned for more details about the smartphones' features and specifications as they come in.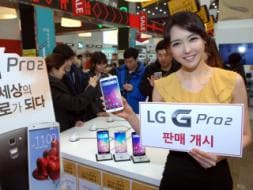 MWC 2014 in pictures