The camera features and modes of BlackBerry Classic smartphone, which is set to start shipping from December 17, have now been previewed officially by the firm. The handset's White colour variant has also been leaked online.
Donny Halliwell, BlackBerry's Social Media Marketing lead, on the company blog post detailed a number of camera modes and other features included the Classic handset on Tuesday. Some of the features mentioned are Panorama Mode, Offline Time Shift Mode, Timer, HDR Mode, Burst Mode, and Shutter Buttons. However, the rear or front-facing camera sensor size were kept a secret.
Halliwell explains that BlackBerry Classic will feature an easier method to capture panorama images by simple swiping from left to right. The handset will also flaunt better HDR technology, which "combines multiple exposures, so that if you're in less than ideal lighting situations like a bright sunny day, or a dimly lit room, pictures shot with HDR activated, could appear more balanced."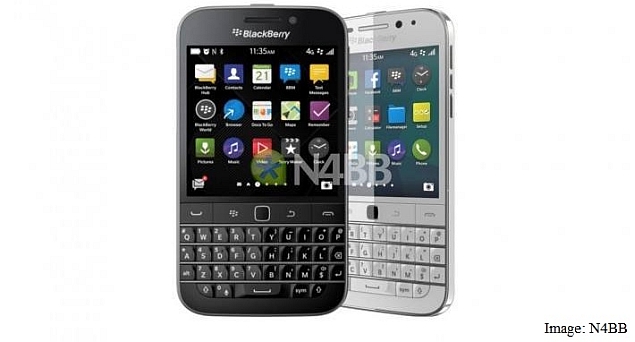 (Also See: BlackBerry Classic Flaunts Keyboard Shortcuts in New Video)
The Offline Time Shift modeon the BlackBerry Classic is divided in two parts. While the Time Shift captures a series of images to let users select best image, the Offline mode lets users edit the clicked images later. Users can also use Burst mode in situations when they don't know exactly when the particular event will happen.
In addition, it has been noted that users will be able to click images using the BlackBerry Classic's trackpad, spacebar, mute key or the icon on the screen, as the device lacks a dedicated physical camera button.
The smartphone, which has been appearing in Black colour variant until now, seems set to arrive in White colour also, according to n4bb website. The image leaked (seen above) by the website reportedly shows an official render of the device in both black and white colour.
To recall, BlackBerry earlier this month started taking pre-orders for the Classic smartphone at $499 (roughly Rs. 30,800). Rumoured specifications of the BlackBerry Classic smartphone include a 3.46-inch display with a resolution of 720x720 pixels; a 1.5GHz dual-core Snapdragon S4 Plus CPU; 2GB of RAM; 16GB of inbuilt storage; expandable storage via microSD card (up to 128GB); an 8-megapixel rear camera; a 2-megapixel front-facing camera, and a 1515mAh battery.