BlackBerry has joined
Apple
(Siri),
Google
(Google Now), and
Microsoft
(Cortana) with the launch of its own voice-based virtual assistant, the BlackBerry Assistant.
The Canadian company on Wednesday confirmed the existence of the BlackBerry Assistant via its official blog post. The company revealed that the new voice-based virtual assistant will debut first on the BlackBerry Passport smartphone (that has been already unveiled but yet to release) and will be a part of the upcoming BlackBerry 10.3 OS.
The blog post revealed the BlackBerry Assistant interface, which shows a microphone in a circle, very reminiscent to Google Now, which a user can press and start giving voice commands. The assistant can respond to conversational spoken requests or commands, as noted by the blog post.
(Also see: Microsoft's Cortana vs. Apple's Siri vs. Google Now)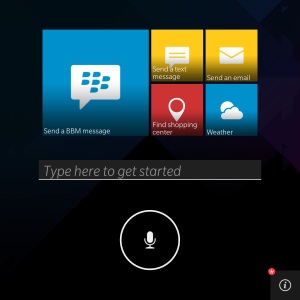 "BlackBerry Assistant is voice activated when I need it to be, and helps manage simple tasks on my device from searching my email and calendar, finding out what's trending on Twitter, to sending trivia night invitations. The more I use it, the more it learns and adapts to me. The more I speak with it, the more tuned-in to my queries it gets. If you've had experience with other smartphone-based personal assistants, I think you'll be pleasantly surprised at how accurate BlackBerry Assistant is at recognizing your requests," notes the official BlackBerry blog post.
The blog post also hinted that the BlackBerry Assistant will get better with time as a user spends more time with it, a learning process that Microsoft's Cortana also touts.
Unfortunately, the company did not reveal any time frame for the release of BlackBerry 10.3 OS, which will come with the BlackBerry Assistant.
At the company's earnings report and annual meeting in June, BlackBerry's CEO John Chen had confirmed that the square-shaped 'Windermere' smartphone would be officially called BlackBerry Passport and will launch in September.
Based on a BlackBerry developer listing, the Passport smartphone is said to sport a 4.5-inch display with a resolution of 1440x1440 pixels and offer a pixel density of 453ppi.
The company recently also expressed its motivation behind a square-shaped phone, detailing the benefits for the BlackBerry Passport's design. It had said, "BlackBerry Passport offers its size and aspect ratio to accommodate these characters, making it the ideal device for reading e-books, viewing documents and browsing the web. No more worrying about portrait or landscape modes, and no; you aren't missing anything."