The Canadian handset manufacturer's plans to change UI elements in its BlackBerry 10 OS may have been leaked in a series of allegedly screenshots.
The screenshots from an anonymous source have been published by ZonaBlackBerry. The screenshots allegedly showcase the upcoming BlackBerry OS v10.3.0.140 iteration. If the images are to be believed the new BlackBerry 10.3 OS will come with new features and capabilities for users, making the interface more interactive.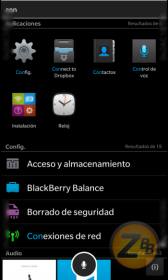 It looks that company is testing a virtual assistant for the new version of the BB10 OS, spotted as an icon for Intelligent Assistant in the screenshots. It is not known whether this will be voice-based, like the Siri for iOS. Also seen in the alleged screenshots is what looks like a smart search feature.
Other design changes seen in the alleged BB 10.3 OS include minimalistic design changes in the music player, a new keyboard layout that has a new black and red colour scheme. Additionally, the screenshots show a 'Face down for power save' feature, which will turn power saving on when the phone is placed face down on a flat surface. Also seen, is a 'Lift to wake device' feature, which will wake the smartphone up when it is picked up from a flat surface.
In the alleged screenshots, BlackBerry is seen to have added the new buttons and controls in a new minimalist style, throughout the new BlackBerry 10.3 UI.
Other new features seen in alleged screenshots include some for the BlackBerry camera app, such as native panorama settings, a timer, and the ability to capture 720p video in 30fps and 60fps. The camera app also seems to be able to auto-suggest to the user when to use HDR for multiple exposures, based on conditions.
The report also suggests an improvement in browsing experience on the new BlackBerry 10.3 OS, based on the app's improved performance in minimising or maximising windows.
For the latest tech news and reviews, follow Gadgets 360 on Twitter, Facebook, and Google News. For the latest videos on gadgets and tech, subscribe to our YouTube channel.
Related Stories