Research in Motion (RIM) seems to be having a tough time keeping its forthcoming BlackBerry 10 smartphones away from the camera.
Pictures and videos
of the full-touch BlackBerry 10 smartphone, which is touted to be launched as BlackBerry Z10 have been around for a while.
Adding to that list of leaks is the ones received by Business Insider, which reveal that this smartphone will be available through two major US telecom operators - Verizon and AT&T. Verizon is the largest telecom operator in the United States of America and was one of the first operators in the world to offer BlackBerry smartphone when they were launched.
The current set of leaked pictures placed iPhone 4S in between two BlackBerry Z10 smartphone to help compare both these devices. Business Insider claims that the build quality of BlackBerry Z10 is really nice. Its back cover feels rubbery and snaps pretty much like the back cover of Samsung Galaxy S III. However, these leaks do not give any indications on by when will these smartphones will start retailing.
Furthermore, a new video of the BlackBerry Z10 has been leaded by ETradeSupply.com, which allegedly details the internal parts of this smartphone. According to this video, the full-touch BlackBerry 10 will be 10 millimetres thick.
The video features two 4.3-inch screens of what they claim to be BlackBerry Z10 smartphone. Both these screens seem to have a different layout of camera and sensor. Only one of the screens in the video seems to have BlackBerry logo, which makes the website speculate that this may perhaps be the final version of the display, while the other might be a prototype of a forthcoming BlackBerry 10 device.
RIM has already sent out invites for the January 30 event, where it will be launching its much awaited BlackBerry 10 operating system. It is expected that RIM will be launching two new devices at the launch, the all-touch BlackBerry Z10 and a QWERTY smartphone that is rumoured to be dubbed BlackBerry X10. Certain operators around the world have already started taking pre-orders for these smartphones.
The latest to join this bandwagon is the Canadian telecom operator Bell. The operator is also running a contest on its site, and promises to give away five new BlackBerry 10 devices to users who pre-register for updates.
As per Mobilenapps.com, the terms and conditions of this contest hints that the new BlackBerry 10 smartphone may carry a price tag of 700 Canadian dollars. Though it is not certain whether this price is for the full-touch smartphone or the QWERTY one.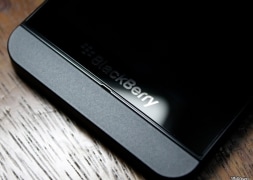 Is this the BlackBerry 10 L-Series smartphone?
Image Credit: Business Insider