The Vietnamese blog who posted the
most comprehensive pictures yet
of the BlackBerry 10 L-Series smartphone are at it again. The site has
posted
a hands-on video of same BlackBerry 10 L-Series smartphone that is almost 5 minutes long.
The video includes a side-by-side comparison with the BlackBerry 10 Dev Alpha B device in addition to a quick-walkthrough of the BlackBerry 10 L-Series hardware from various angles. The BlackBerry 10 L-Series is visibly thinner than the Dev Alpha B device.
The video then walks through the
BlackBerry 10
OS, including receiving a call, the BlackBerry Hub, app switching, various home screens and more. The camera app is also demoed (notice the quick switch between the front and rear cameras) followed by a quick look at the removable battery. The video ends with a call made from the BlackBerry 10 L-Series device to an iPhone 5, with a side-by-side comparison of both devices (the BlackBerry seems wider and just a little bit taller than the iPhone 5). Check out the video (not in English) in full below.
RIM has announced that it will be
showcasing its flagship smartphone(s)
along with the new operating system in a global launch spread across multiple countries on January 30, 2013. There have also been reports suggesting that a QWERTY smartphone running on the BlackBerry 10 OS will start retailing from June 2013.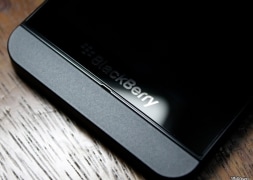 Is this the BlackBerry 10 L-Series smartphone?
For the latest tech news and reviews, follow Gadgets 360 on Twitter, Facebook, and Google News. For the latest videos on gadgets and tech, subscribe to our YouTube channel.
Related Stories