Apple at its
WWDC 2014 Keynote
on Monday unveiled iOS 8, which it calls the biggest release since the launch of the App Store. The company
also unveiled OS X Yosemite
.
The Cupertino giant said
iOS 8
delivers a "simpler, faster and more intuitive user experience." Craig Federighi, Apple's Senior Vice President of Software Engineering, introduced the new mobile and tablet OS, saying, "iOS 8 offers simpler, faster and more intuitive ways to use your device with incredible new features like iCloud Photo Library, a new Messages app, the QuickType keyboard and an entirely new Health app. We're also giving developers amazing new tools to make managing your health and your home from your devices an integrated, simple and secure experience."
In iOS 8, the Photos app and iCloud Photo Library give users access to all of their photos and videosacross devices. The Photos app can automatically straighten horizons and with smart editing tools, users can quickly adjust light and colour or access individual tools for deeper fine-tuning. With iCloud Photo Library (seen below), every adjustment and effect is automatically updated across users' devices.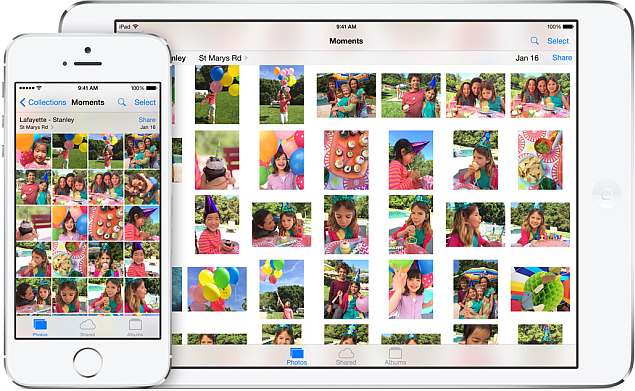 Apple says conversations in Messages have become more immersive with the ability to communicate with just a swipe. 'Tap to Talk' allows users to share their voice easily, and the same gesture also works for sharing videos and photos within Messages. Group messaging now gives users the ability to add and remove contacts, leave a conversation and the option to not be disturbed. Users can easily browse through all of the photos and videos within a conversation and share multiple photos and videos at once. Users can choose to share their current location from within Messages for an hour, a day or longer.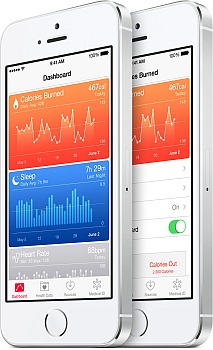 The new Health app (seen above) gathers the information users choose from their various health apps and fitness devices, and provides users with a clear and current overview in one place. iOS 8 offers developers the ability for health and fitness apps to communicate with each other. With users' permission, each app can use specific information from other apps to provide a more comprehensive way to manage your health and fitness. For example, the Nike+ apps using NikeFuel will be able to pull in other key HealthKit metrics such as sleep and nutrition to build a custom user profile and improve athletic performance.
New predictive typing for Apple's QuickType keyboard (seen below) is smarter and more personalised, and intelligently takes context into account, such as who the recipient is and in which app they're typing. QuickType understands the way users communicate, suggesting favourite phrases, so they can write entire sentences with just a few taps. What the keyboard learns is encrypted on the user's device and never sent to the cloud.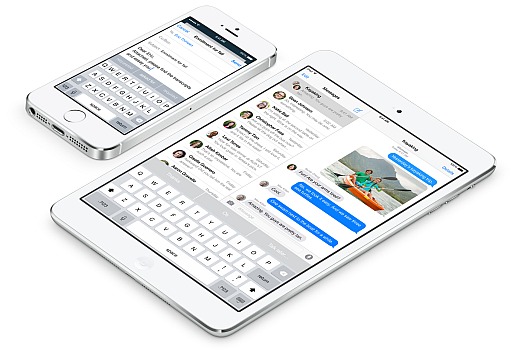 iOS 8 also introduces Family Sharing, making it to communicate and share purchases, photos and calendars within the same household. Family members can browse and download each other's iTunes, iBooks or App Store purchases. Up to six members can participate, each with their own Apple ID. Parents can create Apple IDs for children, which includes Ask to Buy, requiring parental permission for purchases. Family Sharing automatically keeps everyone connected by creating a shared family photo stream, shared calendar and provides an option for locating family members and their devices.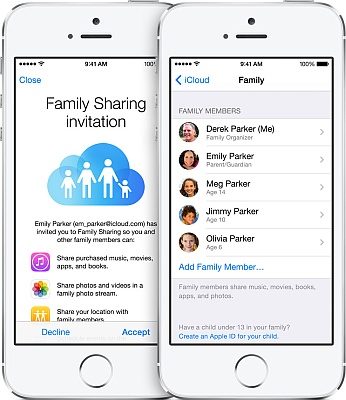 With iCloud Drive, Apple says documents of any type can be safely stored, accessed and edited across their devices. Make edits on one device and the most up-to-date version of their documents will be available across all devices, whether an iOS device, Mac, Windows PC or on www.icloud.com. iCloud Drive brings a whole new level of collaboration between apps, providing seamless access and the ability to work on the same file across multiple apps.
For Enterprise, Apple says iOS 8 builds on the new IT model for a mobilised workforce by improving the way users are informed of how their devices are configured, managed or restricted. iOS 8 offers expanded security and management improvements as well as new productivity features, including an expanded level of data protection for key built-in apps, the ability to set your out of office response, see your colleague's availability when scheduling a meeting and support for configurable Thread Notifications in Mail.
Additional iOS 8 features include design enhancements that build off the stunning interface of iOS 7, bringing interactive notifications, quick access to key contacts, the ability to quickly switch back and forth between the inbox and drafts in Mail, as well as intelligent suggestions. Also new are extended Spotlight capabilities that give users results beyond what's on their device, including articles from Wikipedia, findings from the news and results from places nearby.
The iOS 8 beta software and SDK are available immediately for iOS Developer Program members at
developer.apple.com
. iOS 8 will be available this fall as a free software update for iPhone 4s, iPhone 5, iPhone 5c, iPhone 5s, iPod touch 5th generation, iPad 2, iPad with Retina display, iPad Air, iPad mini and iPad mini with Retina display.