After a flurry of rumours, we now have official confirmation from Apple that it's hosting a special event on September 10 in San Francisco, where it's expected to announce two new iPhones and the final version of iOS 7, the next iteration of its mobile OS.
Apple has started sending invites for the special event according to a number of Apple-focused publications including Jim Dalrymple's The Loop. The event will be held at Apple's Cupertino headquarters and will start at 10am Pacific Time.

The picture accompanying the invite features a White Apple logo surrounded with circles in different colours, in line with the colourful new UI of iOS 7 and perhaps representing the colourful shells of the iPhone 5C, the alleged budget iPhone. The image is marked by a 'This should brighten everyone's day' message.
A number of rumours including some by credible publications and journalists such as AllThingsD and Jim Dalrymple, had confirmed September 10 as the most probable date for Apple hosting a special event to announce the next generation iPhone, iPhone 5S and the low cost iPhone, iPhone 5C.
The iPhone 5S is expected to come with a brand new Apple chip, the A7, alongside 1GB of LPDDR3 RAM, retaining the form factor of the iPhone 5. A 128GB storage variant of the phone has also been rumoured. The iPhone 5S is likely to come with a larger f2.0 aperture compared to the iPhone 5, that comes with f2.4 aperture. It's also likely to sport a fingerprint reader.
The low-cost iPhone or iPhone 5C has leaked several times. Alleged pictures of the iPhone 5C have revealed a plastic polycarbonate body back panel in White, Blue, Red, Yellow and Green colours, a round camera lens and LED flash, Apple logo and iPhone branding. It's expected to be powered by a dual-core CPU, and have a 4-inch screen, just like the iPhone 5, with a resolution of 640x1136 pixels. The iPhone 5C is rumoured to have 1GB of RAM, and come in 16GB, 32GB and 64GB storage variants. It'a also likely to sport an 8-megapixel rear camera and a 1.2-megapixel front facing camera camera and run iOS 7 complete with Siri which would be available in English, French, German, Japanese, Chinese, Korean, Italian and Spanish.
The iPhone is usually made available to the public in major markets including US, Canada, France, Japan, Hong Kong, UK, and Singapore, around a week after the official announcement. Rumours have indicated that
Apple will start selling the iPhone starting September 20
.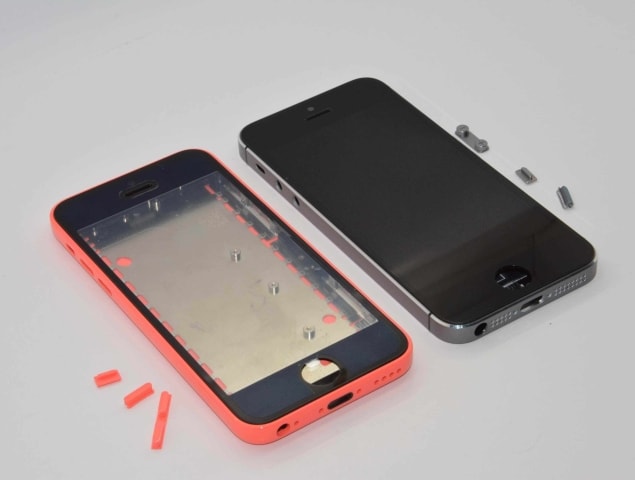 Are we looking at Apple's new iPhones?