Apple says its next mobile operating system, iOS 7, will be available as a free download on Sept 18.
(
Also see
:
Apple unveils iPhone 5c and iPhone 5s
)
The biggest change comes in the new system's design: Instead of app icons that try to mimic real-world counterparts, Apple is favoring simplicity and consistency from app to app. The new 5c phones were designed to complement the color scheme found in the new operating system.
(
Also see
:
iPhone 5c price disappointment: 'Low-cost iPhone' fails to check-in
)
As previously announced, you'll be able to swipe up from the bottom of the screen to access a control center, for such functions as turning on airplane mode and adjusting brightness. It's similar to a feature available on rival devices running Android.
The calendar has been cleaned up and looks more streamlined. You can also get to your contacts list quickly while reading messages by swiping from the left of the screen. A featured called AirDrop will let people share content with other Apple devices.
There's also better organization of photos you take on iPhones. Instead of the endless streams of the past, pictures will be organized into moments - such as "home" or "trip to San Francisco."
(
Also see
:
10 new features in Apple's iPhone 5s
)
The Siri virtual assistant is getting refreshed, too. You'll be able to choose a male voice, not just a female one as is currently the case.
In addition, the iOS 7 system includes Apple's new streaming music service, iTunes Radio. The service will personalize listeners' music based on what they've listened to and what they've purchased on iTunes. If you like a song, you can buy it through iTunes with one click.
(
Also see
:
10 big improvements in Apple's iOS 7
)
Owners of older iPhones can get the iOS update for free starting next Wednesday. Just respond to the prompt when it comes or go to "Software Update" in the settings under "General." Apple said iOS 7 will be available to download and install on the iPhone 4 and later, the iPad 2 and later, the iPad Mini and the fifth-generation iPod Touch, the one released last year.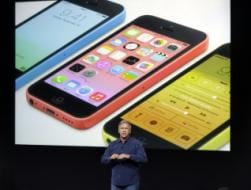 iPhone 5c and iPhone 5s launch in pictures
For the latest tech news and reviews, follow Gadgets 360 on Twitter, Facebook, and Google News. For the latest videos on gadgets and tech, subscribe to our YouTube channel.
Related Stories