With iPhone 6 and iPhone 6 Plus release in the first wave of countries around the corner, Apple on Tuesday has put up a support page with detailed steps to help Android smartphone users making the switch transfer their content to their new iPhone.
Apple's support page, titled, "Move content from your Android phone to iPhone," includes six different categories, namely, 'Mail, Contacts, and Calendars', 'Photos and videos', 'Music', 'Books and PDFs', 'Documents' and 'Apps'. The page details step-by-step data transfer process for the aforementioned content, using third-party apps, direct transfer, or with iTunes on a Mac or Windows PC.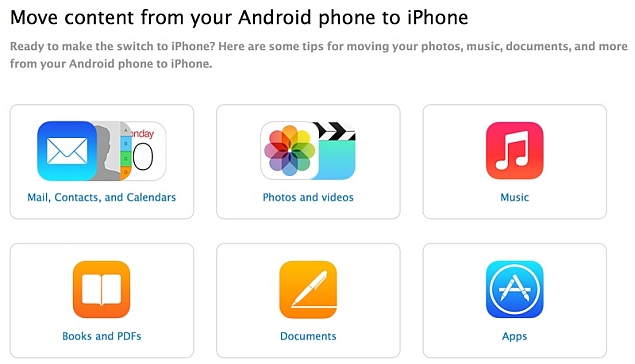 For contacts, calendar and photos, Apple support page encourages users to use third-party apps like 'Copy My Data', 'AT&T Mobile Transfer', and 'PhotoSync' apps. The support page detail also includes information on moving email accounts to the iPhone.
For apps, Apple writes, "You'll probably find the apps you're already using on the App Store. Go to the App Store, search for the apps you have now, and install them. Then sign in with your user name and password."
Last week, Apple had unveiled the iPhone 6 and iPhone 6 Plus smartphones at an event. iPhone 6 and iPhone 6 Plus will be available in the US, Australia, Canada, France, Germany, Hong Kong, Japan, Puerto Rico, Singapore and the UK beginning on Friday, September 19. The company had starting taking pre-orders for both models from September 12.
Apple has also announced that the second wave of iPhone 6 and iPhone 6 Plus launches starts from September 26, which includes Austria, Belgium, Denmark, Finland, Ireland, Italy, Luxembourg, Netherlands, New Zealand, Norway, Portugal, Russia, Spain, Sweden, Switzerland, Taiwan and Turkey.
For India, there is still no official confirmation from Apple. Previously, Apple India website had initially listed it for September 26, before being
changed to October 17
, and before the date was
finally removed from the website
.