Apple at WWDC on Monday released the iOS 8 software development kit (SDK) for developers. In what the company claims to be one of the largest ever developer release, there are over 4,000 APIs, which it says will allow developers to create new apps that truly leverage the ecosystem.
Speaking at WWDC, Craig Federighi, Apple's Senior Vice President of Software Engineering, described the new mobile operating system, "With more than 800 million iOS devices sold worldwide, the opportunity for developers is huge. This is the biggest iOS release since the launch of the App Store."
Notably, the release of the iOS 8 SDK also marked the first time Apple opened out its ecosystem sufficiently to allow extensibility via widgets, system-wide keyboards, notifications, camera, and most notably, the Touch ID sensor.
With the roll-out of the Touch ID API in iOS 8 SDK, developers will finally be able to make apps that leverage the sensor - such as authenticating users within apps, as well as protecting logins and user data. All this whilst keeping the fingerprint data safe and protected. Other features introduced in the iOS 8 SDK include PhotoKit to help developers work use the camera hardware and app for faster performance.
CloudKit will help developers eliminate need to write server codes to maintain servers. Developer-specific App Store features include the new app previews and app bundles. iTunes Connect will provide free analytics to developers, while TestFlight will help to beta test pre-release apps.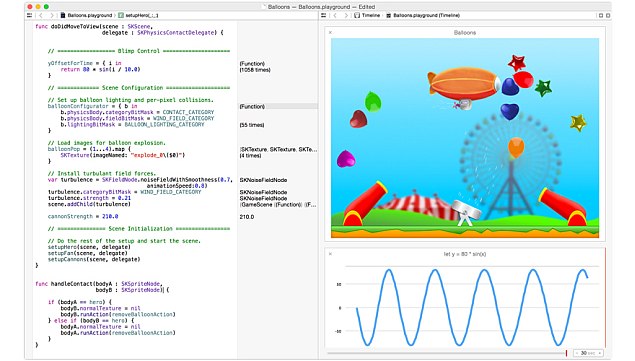 The newly introduced Swift programming language (seen above) will also aid developers to write better codes for apps that will be developed for the iOS 8. Also introduced was Xcode Playgrounds, which Apple claims will help developers to write Swift code in a better manner.
Also introduced were HealthKit and HomeKit. HealthKit will allow health and fitness apps (including Apple's own Health app) to communicate with each other to manage both in sync with both doctors and fitness trainers. HomeKit, a standardised network protocol, will allow apps control various home automated services and gadgets within the house.
The iOS 8 SDK also introduces Metal, a new graphics platform which Apple says will improve gaming on the iOS 8 by allowing developers to bring console class 3D graphics to the iOS devices. The features include SpriteKit and SceneKit to help develop the games.
The iOS 8 SDK is available for developers at developer.apple.com. iOS 8 will be available as a free update for iPhone 4s, iPhone 5, iPhone 5c, iPhone 5s, iPod touch 5th generation, iPad 2, iPad with Retina display, iPad Air, iPad mini and iPad mini with Retina display. It will be released this fall.