As per a recent Morgan Stanley
report
, Google is paying close to $1 billion to Apple, every year, for keeping Google as the default search engine on iOS devices. The finding is part of a report called 'The Next Google is Google' by analyst Scott Devit, who had put Google on his 'best ideas' for investment list last week. The amount is just an estimate but in a way reaffirms analyst firm Macquarie's
claim
that pegged the figure at $1 billion last year.
However, Macquarie's Ben Schachter had calculated the figure after estimating that Google search on iOS and Safari contributed $1.3 billion in gross revenue assuming that Apple represented about 66 percent of Google's total Traffic Acquisition Cost (TAC). Out of the gross revenue, 75 percent was Traffic acquisition Cost, leaving Google with $335 million and the rest going to Apple. This means that for every $1 that Google generates through search advertising via iOS devices, 75 cents go to Apple.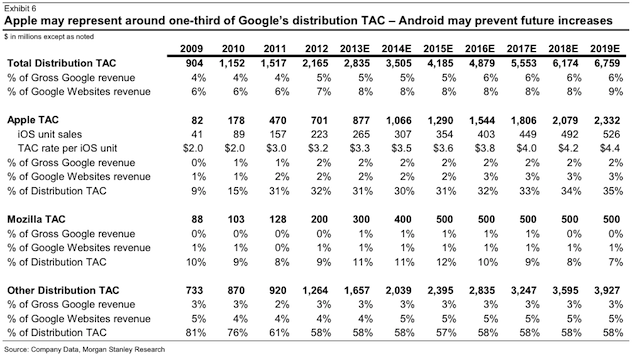 Devitt is of the view that Apple has not inked a revenue sharing deal with the search giant, and instead charges a fee per device for making Google the default search engine when users enter a term in the browser search box or look for web results for terms keyed-in on the Universal search box. Devitt believes that paying $1 billion for retaining its hold on the search business is a good deal for Google.
In March 2012, the US FTC (Federal Trade Commission) had
asked
Apple to provide information including the financial terms related to Google being present as the default search engine on iOS devices, part of the US Government's anti-trust investigation of Google. However, the data was never made public.

Table courtesy: Business Insider

For the latest tech news and reviews, follow Gadgets 360 on Twitter, Facebook, and Google News. For the latest videos on gadgets and tech, subscribe to our YouTube channel.
Related Stories