While traditionally iOS has seen higher mobile ad revenues than Android, this trend saw a reversal in the last quarter as per the new State of Mobile Advertising report by Opera Mediaworks.
Opera points out that while
Android
ousted
iOS
from the top spot in terms of mobile ad impressions or traffic back in the first quarter of 2014, the same period in 2015 saw the platform overtake iOS in terms of ad revenues as well - if only by a very slight margin. Of course Opera's figures are based on impressions served and revenue generated on its own mobile advertising platform.
The company on its Q1 2015 report
page
said, "For the first time since we started The State of Mobile Advertising report in 2012, Android is leading revenue generation across our platform, albeit by only a fraction of a percentage point."
As per Opera's figures for the first quarter of 2015, Android had a 65.17 percent global share of mobile ad traffic, while iOS had a 22.34 percent share. In terms of ad revenue however, Android had a 45.77 percent share of the market, while iOS had a 45.44 percent share.
BlackBerry
,
Symbian
, and
Windows Phone
accounted for 1.87 percent, 3.99 percent, and 0.16 percent of the global mobile ad traffic share respectively, and 1.96 percent, 1.27 percent, and 0.09 percent of the global mobile ad revenue share, respectively. Other platforms made up for the remaining 6.46 percent share of mobile ad impressions, and 5.48 percent of the global mobile ad revenue share.

Coming to video and other rich media ads, where iOS continues to lead according to Opera's figures. iOS registered 56.57 percent of the video ad impressions and 62.69 percent of the video ad revenue generated in the period, while Android registered 42.84 percent of the video ad impressions, and 36.23 percent of the video ad revenue generated. The video ad completion rate for iOS was also significantly higher than Android, with 87.2 percent compared 76.7 percent.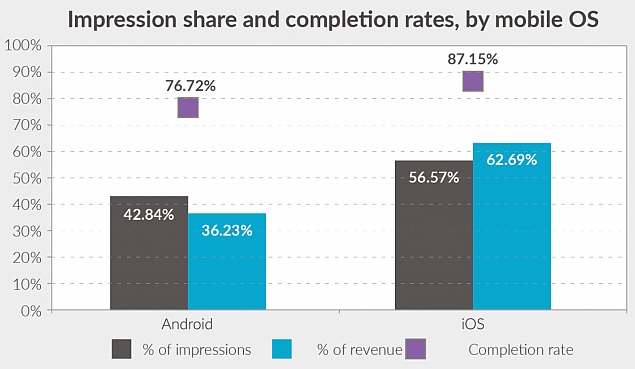 As for monetisation potential, or, the ratio of share of revenue to share of impressions served, and iOS in Q1 2015 still lead all device platforms. Specifically, the iPad was once again ahead of other device platforms in terms of monetisation potential, with a ratio of 4.38:1 compared to 1.21:1 for Android tablets. The iPhone also beat out Android phones, with a ratio of 1.59:1 compared to 0.68:1.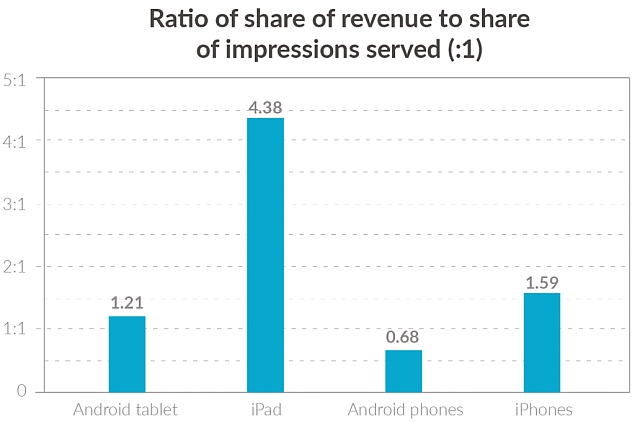 In its report,
Opera
said, "The iPad generates the highest revenue per impression of any device / platform combination; in fact, its monetisation share in Q1 was over 4X that of its traffic volume. Android tablets are making headway, too, as revenue increased this quarter now to be just over par with their traffic volume. Look for Android tablets to continue this trend over the coming months... It's important to note that iOS devices reach higher monetisation levels, primarily because those devices have a larger market share in regions where advertising rates are higher, such as Western Europe and the United States."