Google has updated its Google Play distribution data for the seven-day period ending April 6, revealing that Android 5.0 Lollipop running devices are steadily rising while Android 5.1 version has even made it to the chart this month - OS versions with a less than 0.1 percent distribution share are not shown.
Sharing the distribution data of different versions of Android, Google reported that Android Lollipop has a total share of around 5.4 percent of active Android devices (with Android 5.0 Lollipop running on 5 percent of device and Android 5.1 at 0.4 percent) that check into Google Play compared to the 3.3 percent reported at the beginning of March - an increase of 2.1 percent in roughly a month.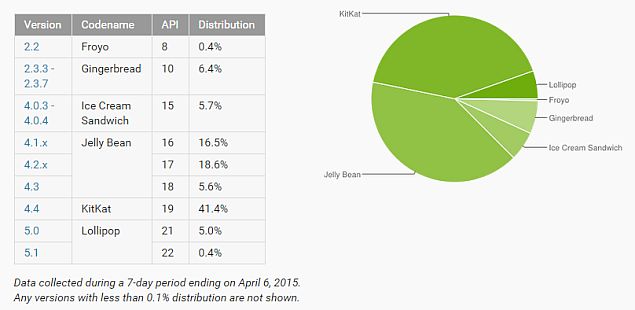 It's worth mentioning that Google only last month released the Android 5.1 Lollipop update, calling it the first major update to Android Lollipop, and the version has already made it to the chart. To compare, Android 5.0 Lollipop took almost four months to finally show up on the Android distribution chart. Android 5.0 Lollipop first showed up in February with a small share of 1.6 percent.
Google also shows that Android KitKat still powers the majority of Android devices, with a 41.4 percent share - rising 0.5 percent from March's 40.9 percent. The rise in Android 4.4 KitKat numbers can be credited to some brands that have been lately rolling out KitKat updates for their handsets.
The latest Android distribution data also shows that Android Jelly Bean is slightly behind KitKat with a combined share of 40.7 percent. The Android 4.1.x is seen on 16.5 percent devices (down from 17.3 percent), Android 4.2.x on 18.6 percent (down from 19.4 percent), and Android 4.3 on 5.6 percent devices (down from 5.9 percent).
Android 4.0.x or Ice Cream Sandwich, in Google's April report, registered a share of 5.7 percent, down 0.2 percent from March. Android Gingerbread (v 2.3.3-2.3.7) and Android 2.2 Froyo's device distribution shares are 6.4 percent (down 0.5 percent) and 0.4 percent (same as last time) respectively in the latest report.
The OpenGL version, on the other hand, saw OpenGL 2.0 dominating at 65.9 percent, and OpenGL version 3.0 steadily rising to 33.8 percent.
Which version of Android are you running? What do you think of Android 5.1 Lollipop? Let us know in the comments.