Android has grown from a tiny upstart to the world's dominant mobile computing platform with over a billion active users. Google isn't sitting still, though, and has just unveiled what it calls the most ambitious Android release yet. Currently known only as Android L, there's no dessert-themed codename or even formal version number yet. Android L will release later this year, though an exact date isn't known.
We hope to see new smartphones launch around the same time which take advantage of all the new features, and also updates to existing smartphones. HTC is amongst the companies committed to bringing it to its existing HTC One family, while others should announce support soon.
Here are some of the most exciting new features of Android L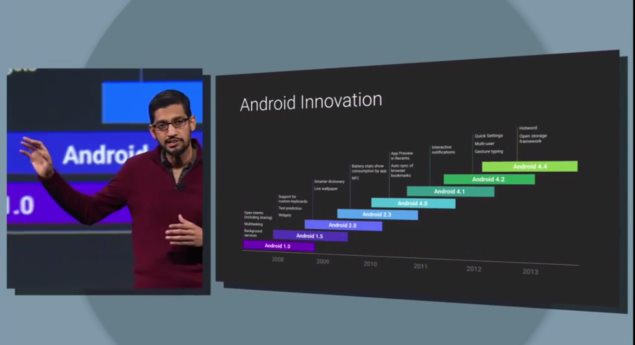 Material design
Android will receive a complete visual overhaul aimed at promoting a consistent experience across Android device sizes and types. The new "Material Design" identity is bolder, more colourful, and more animated. Every transition between screens and every user interaction has been refined, down to the system-wide Roboto typeface and the Android navigation buttons.
Screen elements will be able to simulate depth, with automatic shadows and scaling, but will also inherit elements of classic magazine typography and layout. There's more emphasis on simple shapes and consistent actions that lead you from one app into another. Google's new design page offers hints of what is to come.
The change could also be aimed at discouraging third-party vendors from developing custom Android overlays which greatly deviate from Google's vision. A strong enough core UI experience could lead users to reject anything seen as inferior to it.
The Material Design identity integrates elements of responsive Web design and will extend to other Google properties including Gmail, which will be redesigned for the Web as well as mobile apps. Material Design takes into account the fact that touch, voice, mouse and keyboard are all equally important input methods, clearly illustrating goals above and beyond smartphone usage scenarios.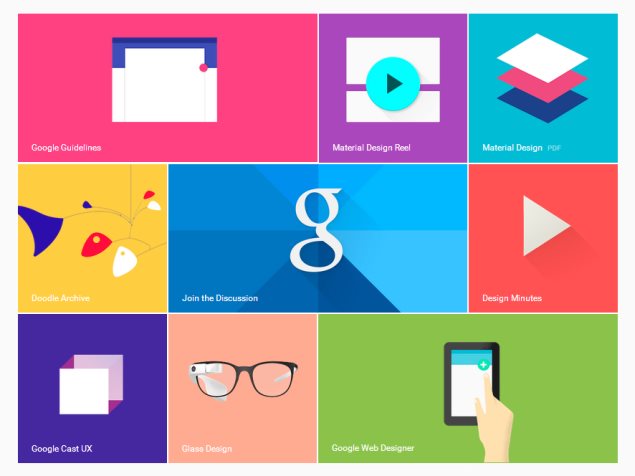 Improved notifications
You will be able to interact with notifications more easily in Android L. For starters, you can choose which ones show up on the lock screen and what amount of detail they'll show. You can decide whether snippets of actual messages are displayed when your phone is potentially visible to others, or whether more details will only be revealed when you unlock it. They also aren't necessarily displayed in chronological order anymore - the OS can learn which ones you're more likely to respond to urgently and prioritise those.
There's also a new type of notification altogether - Google calls these heads ups. These appear on top of whatever you're doing and allow you to take action or dismiss them immediately. These are meant to be less intrusive, and can be used for things that can't wait, such as incoming calls.
Trusted environments
Speaking of the lock screen, you'll soon be able to have your phone detect when it's in a trusted environment, which will dispense with the lock code. This could be triggered by the presence of a Bluetooth device such a smartwatch that you wear all the time, a specific Wi-Fi access point, or other factors. When the environment is deemed safe, you won't have to bother with unlocking your phone.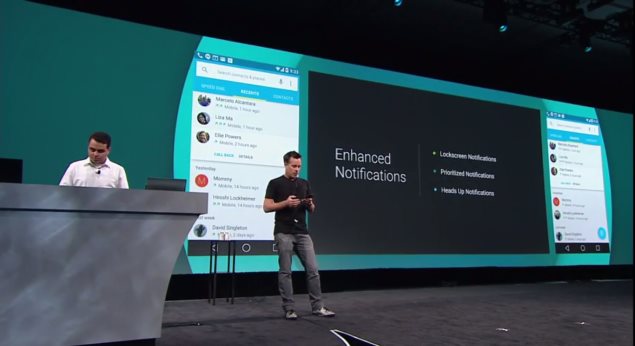 Project Volta, battery improvements
Android L will be able to manage battery life much better, but Google's moves go beyond that to the app development stage, for which new tools have been developed that let developers track battery drain and optimise apps before they ever reach end users. The battery saver mode is similar to those implemented by third parties so far - non-essential services can be turned off or made to run only at intervals in order to save power. Android L will also be able to lower the screen refresh rate, reduce the frequency of data exchanges, or force apps to change their behaviour to match the prevailing battery state.
Google Fit
Everyone's getting into health and activity tracking, and Google is no exception. The new Google Fit framework will take Apple's Healthkit head on, tying into sensors on phones themselves as well as connected accessories to collect data which will be ready for apps to use. Major partners including Nike, Adidas, Runkeeper, HTC, Asus, LG and Motorola are already on board. Google Fit could monitor physical activity and food intake as well as health indicators such as heart rate and breathing.
Greater Web integration
There's also a change to the way individual tabs and documents in apps are handled by Android L. They'll now show up as individual entries in the Recents menu, allowing users to jump directly between them. This pulls the focus away from apps and puts it onto all the things you do with them. For example, Web apps open in Chrome tabs would appear much like native apps running on your device, and you'd be able to jump in and out of them more quickly.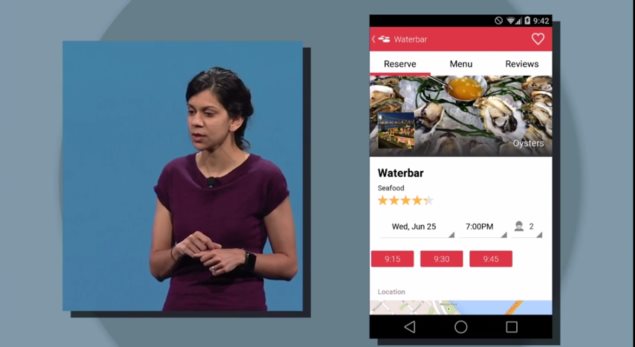 Links on the Web can now also be used to launch apps instead of websites (presumably falling back to the website in case the app is not installed). For example, Google demonstrated looking up a restaurant in Chrome and then tapping a link to not only launch the OpenTable app, but also have it know that it should bring up that restaurant's booking page. Google search results can also now be links that trigger an app, rather than links to websites.
ART Runtime and Android Extension Pack
Google is ditching the Dalvik runtime which has served well for years, in favour of a new one called ART. It can make apps load and run quite a bit faster while using less RAM. ART is 64-bit compatible, and is also engineered to allow apps to work across hardware architectures such as ARM and X86. This also means that Android devices will be able to address more RAM than the 32-bit limit allowed.
With greater diversity in Android hardware obviously envisioned for the near future, the move is a welcome change. Google has worked with major hardware vendors to enable more fluid graphics, potentially paving the way for new Android-based game consoles and set-top boxes. Desktop-class graphics including tessellation, geometry shaders and texture compression will potentially be possible on Android devices.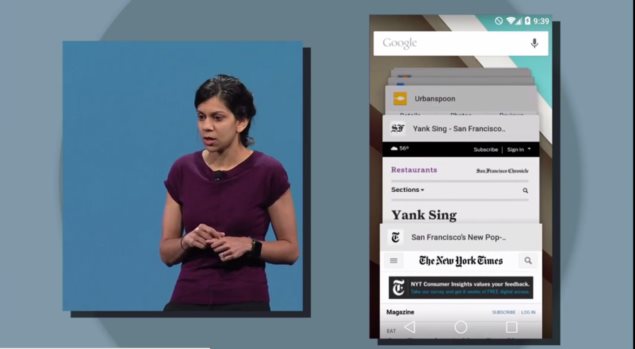 Knox
Google also made a few announcements that indicate interesting things on the horizon for enterprise users. The company announced that Samsung's Knox feature for work and personal separation will become a part of Android itself. Knox allows corporate IT administrators to control work-related data and policies on employees' smartphones while letting the employees themselves continue to store personal data and use unrelated apps. This alleviates many of the problems with accessing secure information from mobile devices and could make Android far more attractive to businesses.